Tweet
Contractors Board's Winter Newsletter Now Available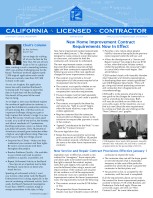 Sacramento — The Contractors State License Board's (CSLB) Winter 2006 edition of the California Licensed Contractor (CLC) newsletter is now available online at the CSLB Web site.
The newsletter, which is also being mailed to the CSLB's almost 300,000 licensees, highlights news of importance to the industry, as well as news regarding the CSLB, information to help contractors and a list of disciplinary actions. "The CLC should be a must-read for our licensees or anyone else interested in what's happening with the Board," said CSLB Registrar Steve Sands. "It's one of the ways we communicate the work we're doing, along with information to help our licensees run a successful business."
In the Winter 2006 edition, you'll find:
An overview of California's new Home Improvement Contract Requirements
A Look at the CSLB's New Improved License Application Packages
An Overview of New 2006 Construction Laws
An Update on CSLB's Fingerprinting Program
A Look at a New CSLB Partnership with California Building Officials (CALBO) to Crackdown on Improper Contracting
A Rundown of CSLB Enforcement and Disciplinary Actions
A Welcome to Four New CSLB Members
A Look at CSLB's Highly Successful "Senior Scam Stopper" Program
Tips for Protecting Your Job Site and Equipment
To get the newsletter online, visit www.cslb.ca.gov and click on "Services and Publications."
Archives: 2019 | 2018 | 2017 | 2016 | 2015 | 2014 | 2013 | 2012 | 2011 and Earlier
Sign Up For Industry Bulletin Email Alerts
Please type in your email below and click submit.