Tweet
Contractors State License Board Receives Prestigious National Award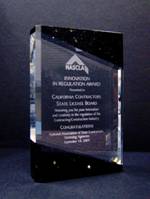 SACRAMENTO - For the second time in four years, the Contractors State License Board (CSLB) has received the prestigious National Association of State Contractors Licensing Agencies (NASCLA) "Innovation in Regulation Award." NASCLA President Carolyn Lazenby presented the plaque to CSLB Registrar Stephen P. Sands at ceremonies during the group's annual conference on September 18, 2009 in Nashville, Tennessee. The ceremony took place before representatives of more than 30 national contractor state licensing agencies, as well as construction firms, contractor trade associations and others affiliated with the construction industry.
Each year, the Innovation in Regulation Award is presented to a contractor licensing agency to recognize the creativity and excellence it has demonstrated through its regulation practices. This year, CSLB received the award for the comprehensive efforts of its Service and Repair Criminal Investigation Task Force's ability to harness and bring to justice a service and repair company, called SRVS Charge Inc. For many years the company conducted fraudulent business practices and defrauded thousands of consumers out of millions of dollars for substandard electrical, plumbing, and warm-air heating, ventilating and air-conditioning repairs.
"CSLB's special task force delivered ground-breaking results, and I couldn't be more proud of their hard work and dedication that brought a ring of predatory service and repair companies to justice," said Registrar Sands. "Our Enforcement Division is seen as a role model by agencies around the nation."
After months of focused enforcement operations related to this case, in March 2009, CSLB achieved the largest consumer protection enforcement settlement in its 80-year history from the multi-million dollar lawsuit initiated by CSLB and filed by California Attorney General Edmund G. Brown Jr. The legal action resulted in a permanent injunction and settlement with SRVS Charge Inc., which was the parent company of a fraudulent network of service and repair entities that are believed to have operated in more than seven states, including Washington, Oregon, New Mexico, Colorado, Arizona, Texas, and Nevada.
As part of joint enforcement efforts with district attorneys and law enforcement agencies, CSLB succeeded in persuading a court and the California Public Utilities Commission to disconnect several toll-free telephone numbers used to promote the illegal schemes, an unprecedented CSLB action. Under the terms of the settlement, the company was ordered to pay $3 million in penalties and restitution, and must abide by numerous business and operation guidelines that are part of a permanent injunction.
NASCLA's annual conference also provides the opportunity for member agencies to share relevant issues related to construction industry regulations. CSLB's enforcement models, techniques, and procedures are now being sought by several other state agencies.
In 2006, CSLB's Enforcement division received the NASCLA award for innovation related to its efforts to eradicate illegal construction activity in California.
Archives: 2019 | 2018 | 2017 | 2016 | 2015 | 2014 | 2013 | 2012 | 2011 and Earlier
Sign Up For Industry Bulletin Email Alerts
Please type in your email below and click submit.