Tweet
Contractors State License Board Announces New E-Mail Alert Feature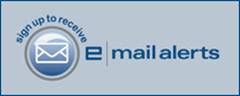 SACRAMENTO -The Contractors State License Board (CSLB) has launched a new E-Mail Alert subscription service to provide licensees and consumers with instant notification of newly published industry bulletins, California Licensed Contractor newsletters, news releases and consumer alerts, and public meeting notices.
It only takes a few moments to sign up for one or all of these instant notification categories.
"These e-mail alerts are another way for us to meet our goal of providing the most up-to-date information possible to licensees about the many issues affecting the construction industry and the operations of this Board," said CSLB Registrar Steve Sands.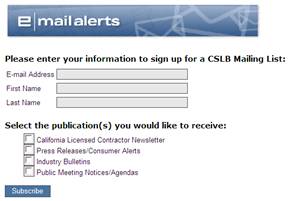 Simply go to the CSLB website www.cslb.ca.gov or www.CheckTheLicenseFirst.com and click on the "E-mail Alerts" button. Then, enter your contact information and hit "subscribe."
That's it.
Once you confirm your subscription, messages will automatically be sent to your e-mail address, alerting you of newly released CSLB publications and notices.
You can opt-out just as easily if you later decide to discontinue receiving any of the alerts.
Archives: 2019 | 2018 | 2017 | 2016 | 2015 | 2014 | 2013 | 2012 | 2011 and Earlier
Sign Up For Industry Bulletin Email Alerts
Please type in your email below and click submit.