Tweet
Contractors State License Board Urges Licensees to Complete Renewal Forms Promptly
Cutting deadline too close could lead to license expiration
SACRAMENTO -The Contractors State License Board (CSLB) is reminding its more than 300,000 licensees to submit their renewal application and fees as soon as possible after receiving their CSLB license renewal notice.
A CSLB license expires on the last day of the month in which it was issued. CSLB sends a renewal application notice to each licensee 60 days before the expiration date. In that notice, the licensee is advised that it may take up to four weeks for CSLB to process the renewal once it is received. If the licensee waits too long, it is likely that the renewal won't be processed before it expires. If the license expires, the licensee will not be able to legally perform any construction work until CSLB processes their renewal paperwork.
"We have a goal of processing renewal applications within two weeks after they're received, and we've traditionally done an excellent job of meeting that goal," said Karen Ollinger, CSLB's Licensing Division chief. "Many licensees send in their paperwork within one month of receiving their notice and don't have any problem getting their license renewed on time."
The odds of missing your license renewal deadline increase if you wait too long to submit your paperwork. CSLB receives an influx of renewals during the last couple of weeks of each month, meaning it can take longer to process applications toward the end of any month.
As the chart below demonstrates, over the past 13 months, CSLB has averaged 1.5 weeks to process a renewal application.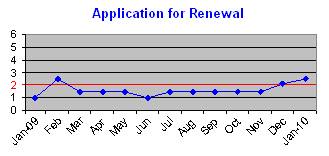 It is important to note that CSLB cannot accommodate requests for a "rush" on renewal processing. Renewal applications are processed according to the date they are received.
Anyone interested in learning more can see all current processing times on the CSLB Web site at www.cslb.ca.gov. Just click on "Online Services." Or, you can use the following direct link: https://www2.cslb.ca.gov/OnlineServices/ProcessingTimes/ProcessingTimes.aspx. The information is updated on a weekly basis.
Archives: 2019 | 2018 | 2017 | 2016 | 2015 | 2014 | 2013 | 2012 | 2011 and Earlier
Sign Up For Industry Bulletin Email Alerts
Please type in your email below and click submit.