Tweet
Most Wanted - Alex Pike Mitchell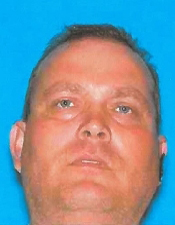 Convicted
Aliases: Alexander Pike Mitchell
SEX: Male
BIRTH YEAR: 1969
HEIGHT: 5'11"
WEIGHT: 230
HAIR: Blond
EYES: Blue
Build: Heavy
RACE: Caucasian
Alex Pike Mitchell - Unlicensed Contractor
VIOLATIONS:
Grand Theft
Theft by False Pretense
Contracting without a License
Failure to Secure Workers' Compensation Insurance
KNOWN LOCATIONS:
San Diego County, Santa Cruz County, Santa Clara County, Perris, California, Riverside County
BUSINESS NAME(S):
Mitchell's Blacktop Service, American Asphalt Maintenance, Wildrock Construction
OTHER:
Mitchell, who has a number of prior convictions for contracting without a license, has new convictions against him in both San Diego and Santa Cruz Counties. While awaiting sentencing in March 2014, Mitchell is free.
Mitchell targets the elderly or homeowners with long asphalt driveways. He tells them he is working in the area and has leftover paving material at a good price, writes a contract and collects down payments of $1,000 to $2,500, and then never returns to do the work.
On June 17, 2013, Mitchell pled guilty to two felony counts of grand theft (Penal Code §487a) in San Diego County Superior Court and agreed to pay victim restitution. He remains free on bail pending sentencing on March 5, 2014. He faces up to one year behind bars.
Mitchell has entered no contest pleas in Santa Cruz County to five felony counts of Obtaining Money, Labor or Property by False Pretenses (Penal Code §532a); four misdemeanor counts of Contracting without a License (Business and Professions Code §7028) with a prior conviction; and one count of Failure to Secure Workers' Compensation Insurance (Labor Code §3700.5), with a maximum sentence of 8.8 years in state prison.
If Mitchell makes full restitution to his Santa Cruz County victims ($17,575) before his scheduled sentencing date of March 25, 2014, his sentence could be reduced to one year in county jail. At this time it's unclear if Mitchell has paid any restitution.
Mitchell may now be telling consumers his name is "Al Johnson," and using the company name, "Wildrock Construction."
Sample of Mitchell's Advertising Flyer
Last Updated April 4, 2014
WARNING:
NO ATTEMPT SHOULD BE MADE TO APPREHEND THIS INDIVIDUAL, EXCEPT BY LAW ENFORCEMENT OFFICERS.
This individual has been involved in unlicensed activity and an arrest warrant has been issued. If you see this person or have any information as to this person's whereabouts, please contact your local Police or Sheriff's Department. After contacting local law enforcement, call the Contractors State License Board in northern California at (916) 255-2924 on in southern California at (562) 345-7600. Warrants must be verfied with the law enforcement agency holding the warrant before and apprehension can be made.
CSLB makes every effort to provide accuracy in reporting and is not responsible for errors/omissions. Submit corrections to the CSLB Public Affairs Office.
Media Room Popular Pages
Connect with us on Twitter
Like Us on Facebook