Tweet
Most Wanted - Maico Merdinand Dimla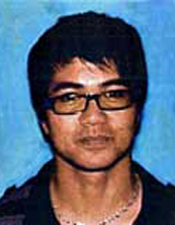 Convicted
ALIASES: Unknown
SEX: Male
HEIGHT: 5' 4"
WEIGHT: 145
HAIR: Black
EYES: Brown
BIRTH YEAR: 1971
Maico Merdinand Dimla- Unlicensed Contractor
VIOLATIONS:
Conspiracy to Cheat/Defraud Another Person of Property
KNOWN LOCATIONS:
San Diego, Tijuana, Mexico
BUSINESS NAME(S):
California State Exam Center, California Contractors Exam Publisher, California Contractors Exam, California Contractors Association
OTHER:
Dimla pleaded guilty on February 18, 2014, in Sacramento County Superior Court to a misdemeanor charge of conspiracy to cheat/defraud another person of property (Penal Code §182(a)(4)). He received 120 days in jail, three years of probation and was ordered to pay restitution to the victims.
Dimla and another man, Luis Manuel Flores, created a sham business and website with names similar to CSLB. The two allegedly contacted CSLB applicants and licensees and falsely represented themselves as CSLB employees. The victims were urged to purchase unnecessary and inaccurate license test study guides.
Flores was arrested in February 2013 while crossing the border into the United States from Mexico. Dimla was arrested by the Orange County Sheriff's Department and transported to Sacramento County on November 20, 2013.
ADDITIONAL INFO:
2/24/2014 CSLB Industry Bulletin
Last Updated February 24, 2014
WARNING:
NO ATTEMPT SHOULD BE MADE TO APPREHEND THIS INDIVIDUAL, EXCEPT BY LAW ENFORCEMENT OFFICERS.
This individual has been involved in unlicensed activity and an arrest warrant has been issued. If you see this person or have any information as to this person's whereabouts, please contact your local Police or Sheriff's Department. After contacting local law enforcement, call the Contractors State License Board in northern California at (916) 255-2924 on in southern California at (562) 345-7600. Warrants must be verfied with the law enforcement agency holding the warrant before and apprehension can be made.
CSLB makes every effort to provide accuracy in reporting and is not responsible for errors/omissions. Submit corrections to the CSLB Public Affairs Office.
Media Room Popular Pages
Connect with us on Twitter
Like Us on Facebook