Tweet
Most Wanted - William Laurence Bennett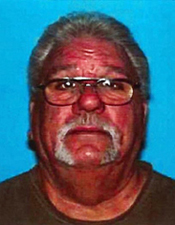 ALIASES: William Laurence Bennett
SEX: Male
BIRTH YEAR: 1949
HEIGHT: 5'10"
WEIGHT: 275
HAIR: Grey
EYES: Brown
COMPLEXION: Tan
RACE: Caucasian
IDENTIFIERS: Wears Glasses
William Laurence Bennett
VIOLATIONS:
Grand Theft
Burglary
Contracting without a License
Fraudulent Use of License Number
Advertising as a Licensed Contractor
Failure to Secure Workers' Compensation Insurance
KNOWN LOCATIONS:
San Diego County, Chula Vista and El Cajon areas
BUSINESS NAME(S):
Triton, Inc.
OTHER:
Bennett has been convicted of contracting without a license on two previous occasions. The first was in 1985; the second in 2003. A new arrest warrant was issued in San Diego County on August 7, 2013. It is based on ten charges, including six felonies.
It's alleged that Bennett tried to pass himself off as a licensed contractor, using business cards with the name "Triton, Inc." along with his name and the CSLB number of a legitimately licensed contractor.
In the first case, a consumer contracted with Bennett for a new landscape, including concrete, an outdoor kitchen and barbeque. The contract price was $13,200.
After the consumer paid Bennett $12,550 of the price, Bennett abandoned the project, leaving it unfinished. A CSLB industry expert examined the work done and determined that the cost to correct and complete the project would be $28,889.
In the second case, Bennett entered into a contract with a consumer to build a sunroom. The contract total was $19,967. Bennett got the consumer to pay deposits totaling $13,200, but abandoned the job without doing anything more than taking some measurements.
Last Updated November 8, 2013
WARNING:
NO ATTEMPT SHOULD BE MADE TO APPREHEND THIS INDIVIDUAL, EXCEPT BY LAW ENFORCEMENT OFFICERS.
This individual has been involved in unlicensed activity and an arrest warrant has been issued. If you see this person or have any information as to this person's whereabouts, please contact your local Police or Sheriff's Department. After contacting local law enforcement, call the Contractors State License Board in northern California at (916) 255-2924 on in southern California at (562) 345-7600. Warrants must be verfied with the law enforcement agency holding the warrant before and apprehension can be made.
CSLB makes every effort to provide accuracy in reporting and is not responsible for errors/omissions. Submit corrections to the CSLB Public Affairs Office.
Media Room Popular Pages
Connect with us on Twitter
Like Us on Facebook