Tweet
Contractor with Revoked License Arrested on Multiple Charges
Suspect continued putting consumers at risk after license was taken away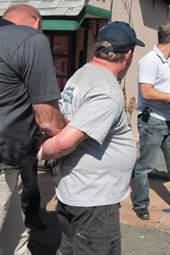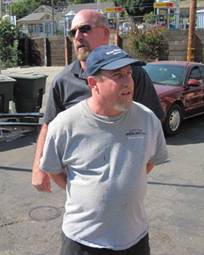 SACRAMENTO — A former licensed contractor whose state license was taken away this spring has been arrested and now faces several felony and misdemeanor charges associated with contracting with a revoked license and failure to carry workers' compensation insurance.
On October 1, 2010, investigators from the Contractors State License Board (CSLB) Statewide Investigative Fraud Team (SWIFT) and Amador County District Attorney's Office arrested Brian Gross, 55, of Valley Springs (Calaveras County). CSLB revoked Gross' General Building (B) contractor license on June 1, 2010, for failure to pay two separate administrative citations that total more than $4,000. His license actually expired on December 31, 2009.
Last week, SWIFT investigators were tipped that Gross' attempted to get a local business license using his revoked contractor license number. CSLB and Amador County investigators made the arrest when they found Gross and three employees roofing at a home in Jackson. Gross now faces a felony count of fraudulent use of a contractor license number and misdemeanor counts for: contracting without a license (which carries enhanced penalties if connected to a revoked license), illegal advertising, displaying a revoked license, failure to carry workers' compensation insurance, and soliciting an excessive down payment. Gross will be arraigned on October 15, 2010, at 1 p.m. at the Amador County Superior Court in Jackson.
Gross' past administrative citations were for filing false exemptions to avoid paying for workers' compensation insurance, failure to secure building permits, charging excessive down payments, working outside of his license classification, illegal advertising, and illegal contracts. Even though his license was revoked for failure to pay these fines, Gross continued to contract and advertise in violation of state law.
"CSLB values its partnerships with prosecutors and building officials that enable us to help root out these unlicensed individuals," said CSLB Registrar Steve Sands. "This is a perfect example of how those who refuse to follow the state's contracting laws put consumers, their employees, and legitimate contractors at risk."
California law requires that any home improvement job valued at $500 or more for labor and materials be done by a licensed contractor. Licensees must carry workers' compensation coverage for all employees so that homeowners are not financially liable if a worker is injured on their property. Roofing contractors must purchase workers' compensation coverage for themselves in addition to any employees.
CSLB urges consumers to follow these helpful tips before hiring anybody to do work on their home or property:
Hire only licensed contractors and ask to see their license and a photo ID to ensure they are who they say they are.
Always check the license number on CSLB's website at www.cslb.ca.gov or www.CheckTheLicenseFirst.com to make sure the license is in good standing.
Don't hire the first contractor who comes along.
Don't rush into repairs, no matter how badly they're needed.
Don't pay more than 10 percent or $1,000, whichever is less, as a down payment. There is an exception for about two dozen licensees who carry special bonds to protect consumers. These exceptions are noted on CSLB's website.
Don't pay in cash, and don't let payments get ahead of the work.
Get at least three bids, check references, and get a written contract.
The Contractors State License Board operates under the umbrella of the California Department of Consumer Affairs. More information and publications about hiring contractors are available on the CSLB website or by calling 800-321-CSLB (2752). You can also sign up for CSLB e-mail alerts at www.cslb.ca.gov. CSLB licenses and regulates California's more than 300,000 contractors, and is regarded as one of the leading consumer protection agencies in the United States. In fiscal year 2009-10, CSLB helped recover nearly $42 million in ordered restitution for consumers.
Archives: 2018 | 2017 | 2016 | 2015 | 2014 | 2013 | 2012 | 2011 | Releases 2010 and Earlier