Tweet
It's Déjà vu All Over Again for Unlicensed, Uninsured Tree Trimmer
CSLB and partners snare three-peat offender in Bakersfield
SACRAMENTO — Investigators from the Contractors State License Board's (CSLB) Statewide Investigative Fraud Team (SWIFT) and the Kern County District Attorney's Office (DA) workers' compensation fraud unit caught up with an unlicensed, uninsured Bakersfield tree-trimming operation for the third time this year. Continuing to put his employees and property owners at risk, 23-year-old Francisco Carrillo Aguilar, of Bakersfield, was caught today by investigators who were tipped off to his ongoing illegal activity by a local resident who found a flyer advertising "The Seasons Tree Service." The homeowner checked CSLB's website for the status of the contractor license, and instead found CSLB's news release about Carrillo Aguilar's September 26, 2011 conviction. The homeowner promptly notified CSLB's Bakersfield office.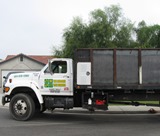 Carrillo Aguilar was caught the first time for taking tree-trimming jobs without a license and without carrying workers' compensation insurance on March 19, 2010. His sentence included a work release program. Shortly after his work release program for that offense ended, Carrillo Aguilar was caught again by SWIFT and the DA's workers' compensation fraud unit in a July 2, 2010 sting and pleaded no contest to those charges on September 26, 2011. At that hearing, Carrillo Aguilar was sentenced to three years' probation and fined $5,000 for a second conviction on charges of contracting without a license and failure to carry workers' compensation insurance for his employees.
Carrillo Aguilar will be arraigned on October 31, 2011, on today's charges of contracting without a license (Business and Profession Code Section 7028), illegal advertising (B&P §7027.1), failure to carry workers' compensation insurance (Labor Code §3700.5), and allowing his employee to drive his pickup without a driver license (Vehicle Code §14602). The vehicle was towed from the scene. The CSLB investigators issued a stop order (B&P §7127) that prevents Carrillo Aguilar from working with employees until he purchases workers' compensation insurance coverage for them.
"Spending a couple of minutes checking a contractor's license status on the CSLB website saved a homeowner from the potential of financial harm from worksite injury and substandard work," said CSLB Registrar Steve Sands. "CSLB is proud of the excellent working relationship SWIFT and the Kern County District Attorney's Office share to help curb illegal contracting."
CSLB urges consumers to follow these tips before hiring anyone to work on their home or property:
Hire only licensed contractors and ask to see their license and a photo ID to verify their identity.
Always check the license number on CSLB's website at www.cslb.ca.gov or www.CheckTheLicenseFirst.com to make sure the license is in good standing.
Don't pay more than 10 percent or $1,000, whichever is less, as a down payment. There is an exception for about two dozen licensees who carry special bonds to protect consumers. These exceptions are noted on CSLB's website.
Don't pay in cash, and don't let payments get ahead of the work.
Get at least three bids, check references, and get a written contract.
The Contractors State License Board operates under the umbrella of the California Department of Consumer Affairs. More information and publications about hiring contractors are available on the CSLB website or by calling 800-321-CSLB (2752). You can also sign up for CSLB email alerts. CSLB licenses and regulates California's more than 300,000 contractors, and is regarded as one of the leading consumer protection agencies in the United States. In fiscal year 2010-11, CSLB helped recover nearly $45 million in ordered restitution for consumers.
Archives: 2019 | 2018 | 2017 | 2016 | 2015 | 2014 | 2013 | 2012 | Releases 2011 and Earlier