Tweet
Eight Unlicensed Contractors Caught in San Jose Neighborhood
CSLB undercover sting shows risk of hiring illegal operators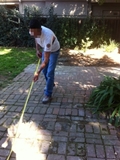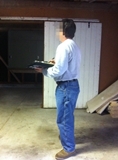 SACRAMENTO — They may look and act like any other contractor, but if the people you consider using for home improvement projects on your property are not state-licensed, they are operating illegally and put you at financial risk. "Front-loading," or asking for an excessive down payment, was one of the violations found during a Contractors State License Board (CSLB) sting operation conducted by CSLB's Statewide Investigative Fraud Team (SWIFT) in conjunction with the Santa Clara County District Attorney's Office on February 27, 2013, at a San Jose home.
One of the eight unlicensed individuals caught during the sting bid on a patio project by asking for a down payment of $7,000, or more than 30 percent of the project, when the legal limit is 10 percent or $1,000, whichever is less. Homeowners who use illegal contractors may never see that person again after handing over a large sum of money. If they do return, there is little guarantee that the work will be completed or meet industry standards. Other bids were submitted for painting, electrical, drywall, landscaping, and concrete work during the operation.
Unlicensed individuals rarely have workers' compensation insurance or liability insurance. "Homeowners are taking a huge risk when they hire unlicensed contractors," cautioned CSLB Registrar Steve Sands. "They could be liable if an unlicensed individual gets hurt on the job, and the risk increases if workers are brought to the property. Plus, the recourse for homeowners is limited if the person's work is substandard or is never completed."
Property owners considering improvement projects should always consult CSLB's online instant license check to ensure the contractor license is in good standing. By law, all home improvement jobs totaling $500 or more in combined labor and material costs in California must be undertaken by CSLB-licensed contractors.
All eight suspects face misdemeanor charges of contracting without a license (Business and Professions Code section 7028).First-conviction penalties for contracting without a license include up to six months in jail and/or up to $5,000 in fines; successive convictions bring harsher penalties. Seven face an additional misdemeanor charge of illegal advertising (Business and Professions Code section 7027.1). State law requires that contractors include their license number in all print, broadcast, and online advertisements. Those without a license can advertise as long as the ad states that they are not a state-licensed contractor, and the combined total of a project's labor and materials costs is under $500.
CSLB conducts sting operations throughout the state each week to protect consumers, help level the playing field for legitimate contractors, and to curb the underground economy.
Individuals who received NTAs must appear at 9 a.m. on April 25, 2013, in Santa Clara County Superior Court, 190 West Hedding Street, San Jose, (Map) to answer to illegal contracting charges.
NOTICES TO APPEAR ISSUED:
CSLB urges consumers to follow these tips before hiring anyone to work on their property:
Only hire state-licensed contractors and ask to see their license and a photo ID to verify their identity.
Always check the license number at CSLB's website, or www.CheckTheLicenseFirst.com to make sure the license is in good standing, and that employees are covered by workers' compensation insurance.
Don't pay more than 10 percent or $1,000, whichever is less, as a down payment. There is an exception for about two dozen licensees who carry special bonds to protect consumers. These exceptions are noted on CSLB's website.
Don't pay in cash, and don't let payments get ahead of the work.
Get at least three bids, check references, and get a written contract with signed change orders for any additions or amendments to the contract.
The Contractors State License Board licenses and regulates California's 300,000 contractors, operating under the umbrella of the California Department of Consumer Affairs. It is regarded as one of the leading consumer protection agencies in the United States. In fiscal year 2011-12, CSLB helped recover nearly $36 million in ordered restitution for consumers.
Archives: 2019 | 2018 | 2017 | 2016 | 2015 | 2014 | 2013 | 2012 | Releases 2011 and Earlier