Tweet
CSLB Alerts Central Coast Residents about Illegal Electrician
CSLB investigators ask consumer victims to come forward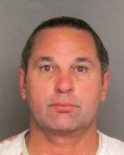 SACRAMENTO — Contractors State License Board (CSLB) investigators have determined that substandard, dangerous electrical work performed by an unlicensed individual, Danny Jess Langley, of Langley Construction, who operates throughout the Central Coast region, may have put his customers at risk and are asking them to contact authorities.
Langley, who pleaded guilty to unlicensed contracting in 2011, was located at a Carmel Valley job site last year by local law enforcement authorities and CSLB's Statewide Investigative Fraud Team (SWIFT). In addition to roofing and painting work, Langley was found to have performed electrical work.
Subsequent review of Langley's work by an industry expert determined that the electrical work was not performed to state codes and presented a dangerous fire hazard. Langley uses the state contractor license number 657400, which was never issued to him, and is believed to still be working in the Central Coast. He also asks unsuspecting consumers to pull owner-builder construction permits from local building departments since he is unable to as an unlicensed individual. This places property owners at financial risk for project costs, employee payroll, and jobsite injuries.
He faces multiple felony counts at a trial currently set in Monterey County next month.
Langley is known to advertise and contract for home repair and remodeling jobs, specifically electrical, plumbing, and carpentry work. Anyone who was previously or currently is working with Langley for any type of construction work is asked to contact either CSLB's Monterey SWIFT office at 831-620-1374 or Fresno SWIFT office at 559-490-0580. If Langley has performed work on your property, CSLB encourages you to have it inspected by a qualified building inspector.
CSLB encourages consumers to always "Check The License First" or call CSLB's toll-free automated line 800.321.CSLB (2757). Also, visit CSLB's website for tips about how to hire a contractor.
The Contractors State License Board licenses and regulates California's 300,000 contractors, and is regarded as one of the leading consumer protection agencies in the United States. It operates under the umbrella of the California Department of Consumer Affairs. In fiscal year 2012-13, CSLB helped recover nearly $44 million in ordered restitution for consumers. More information and publications about hiring contractors are available on CSLB's website or by calling (800) 321-CSLB (2752). You also can sign up for CSLB email alerts.
Archives: 2019 | 2018 | 2017 | 2016 | 2015 | 2014 | 2013 | 2012 | Releases 2011 and Earlier