Tweet
Cindi Christenson Named Contractors State License Board Registrar of Contractors
CSLB Board announces selection to replace retiring Registrar Stephen P. Sands
SACRAMENTO – California Contractors State License Board (CSLB) Board Chairman David Dias today announced the selection of CSLB Chief Deputy Registrar Cindi A. Christenson to serve as the board's new Registrar of Contractors, effective January 1, 2015, following a nationwide executive search.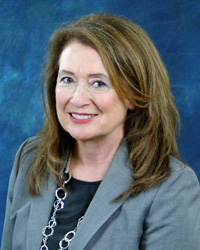 We are pleased and confident with our decision to promote Cindi Christenson who, as a 33-year career state executive, has successfully demonstrated her fiscal, policy, regulation, legislative, and operational management abilities," added Dias. "She also will have the distinction of serving as CSLB's first female Registrar of Contractors, among the known 15 executives who have served in this position since 1929."
Ms. Christenson has served as second in command for CSLB's more than 400 employees and eight consumer protection offices, with direct oversight of the board's $60 million budget, operating policies and procedures, and executive team since 2009.
Before joining CSLB, Ms. Christenson was the executive officer for the California Board of Professional Engineers and Land Surveyors from 1996 to 2009 and, from 1988 to 1996, was that organization's senior engineering registrar. She also worked with the state Department of Water Resources as an associate mechanical engineer from 1981 to 1988.
Ms. Christenson received her juris doctorate from the Lincoln Law School of Sacramento in 2003, and is a licensed mechanical engineer after earning her Bachelor of Science degree in Mechanical Engineering from California Polytechnic State University, San Luis Obispo. She and her husband, Michael, are residents of El Dorado Hills, CA.
The Contractors State License Board operates under the umbrella of the California Department of Consumer Affairs. CSLB licenses and regulates about 290,000 contractors in California, and is regarded as one of the leading consumer protection agencies in the United States. In fiscal year 2013-14, CSLB helped recover nearly $51 million in ordered restitution for consumers.
Archives: 2019 | 2018 | 2017 | 2016 | 2015 | 2014 | 2013 | 2012 | Releases 2011 and Earlier