Tweet
CSLB Investigation Leads to Arrest of Three Sonoma County Men, Now Facing Upwards of Fifty Charges
At least ten victims identified, with more than $812,000 in financial injuries
Additional Media Resources
SACRAMENTO – Three Sonoma County men have been arrested, and now face upwards of 50 felony and misdemeanor charges, after a multi-agency investigation led by the Contractors State License Board (CSLB). The charges filed by the Sonoma County District Attorney's Office include grand theft, burglary, elder abuse, conspiracy, and diversion of construction funds.
Tony Joseph Goodwin, 44, of Forestville, Samuel Williams, 36, of Santa Rosa, and Anthony Joseph Irvin, 51, of Santa Rosa were all arrested this week with the assistance of the Santa Rosa Police Department.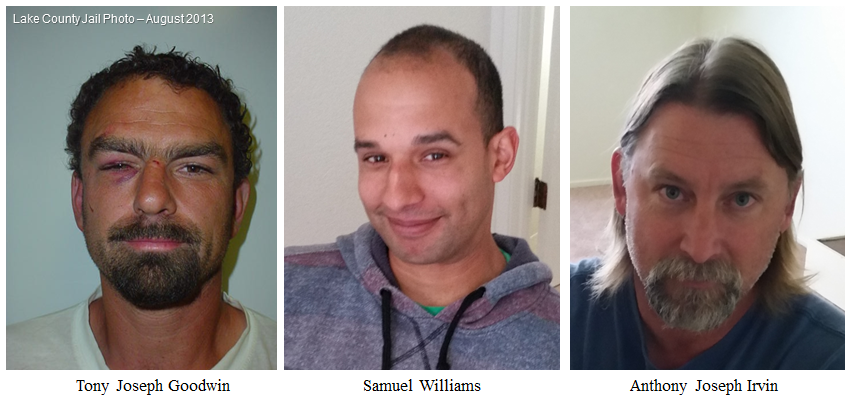 It's alleged that Goodwin, through his construction business, Goodwin Millworks (CSLB License #783179) took advantage of a number of consumers, along with a non-profit government-funded organization that houses the developmentally disabled. Williams is the co-owner of Goodwin Millworks, though he doesn't appear on the CSLB license. It's alleged that Williams conspired with Goodwin to victimize consumers for almost $566,000.
It's also alleged that Goodwin Millworks brought in Irvin, of AJI Construction (CSLB License #869503), to perform construction work for one of the victims, who ended up paying twice for the same work. After getting paid, but before completing his work, Irvin allegedly abandoned the job.
CSLB's investigation began with a tip from the City of Santa Rosa Building Division, after inspectors received repeated requests to inspect substandard construction work and concerns that multiple contractors were involved with the job, one of whom may have abandoned the job prior to completing the work.
In another instance, it's alleged that Goodwin and Williams took advantage of a Bay Area non-profit that buys and rehabilitates homes, turning them into 24-hour care facilities for the developmentally disabled. It's believed that the non-profit paid more than $460,000 for work at two homes, before the incomplete jobs were abandoned. The non-profit then had to spend an additional $685,000 to pay a second contractor to complete the work.
To date, CSLB has identified at least ten victims, who've suffered financial injuries totaling $812,411.99. But, investigators believe that others may have been victims of Goodwin Millworks or AJI Construction. CSLB encourages anyone who believes they may be a victim to contact CSLB Investigator Amanda Martinez at Amanda.Martinez@cslb.ca.gov or (510) 540-2024.
"Fortunately, the vast majority of licensed contractors do good quality work and don't take advantage of consumers," said CSLB Registrar Cindi Christenson. "So, when we find contractors who we believe are taking advantage of consumers, we're aggressive in our efforts to stop them."
In addition to CSLB, the Labor Commissioner's Office (Department of Industrial Relations) conducted a separate investigation based on statements from Goodwin Millworks employees that they had not been paid wages. The Labor Commissioner ordered Goodwin Millworks to pay more than $150,000 in back pay to workers, and civil penalties of almost $600,000. To date, it's believed that Goodwin still owes the workers about $96,000 in wages and the full amount of civil penalties. "Employers who have decided that it's cheaper to break the law, that the chances of getting caught are small, and the consequences minimal if you do get caught should think again," said Labor Commissioner Julie A. Su. "Wage theft is a crime and employers who refuse to pay minimum wage and final wages will be held accountable."
Also of note, CSLB suspended the Goodwin Millwork's license several times for worker's compensation insurance violations, including during the time the alleged actions took place. California law requires employers to carry workers' compensation insurance to cover employee injuries.
NOTE: All suspects are presumed innocent until their case is resolved.
The Contractors State License Board operates under the umbrella of the California Department of Consumer Affairs. CSLB licenses and regulates almost 290,000 contractors in California, and is regarded as one of the leading consumer protection agencies in the United States. In fiscal year 2015-16, CSLB helped recover about $41 million in ordered restitution for consumers.
Archives: 2019 | 2018 | 2017 | 2016 | 2015 | 2014 | 2013 | 2012 | Releases 2011 and Earlier