---
New Workers' Compensation Posting Requirement in Effect
All California employers are required to post new "Notice to Employees – Injuries Caused at Work" in English, and in Spanish if there are Spanish-speaking workers. This regulation took effect on October 8, 2010.
In addition to placing the new posters in a common area, employers must distribute the "Your Rights to Workers' Compensation Benefits" pamphlet to all individuals hired after October 8. There are also new claim forms and medical provider network change forms and notices required by this regulation.
Failure to comply with the posting requirements can result in fines up to $7,000. Notices and forms are available in English and Spanish on the Department of Industrial Relations' Division of Workers' Compensation website.

Federal Lead-Paint Regulations Enforced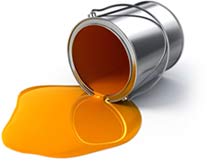 The United States Environmental Protection Agency (U.S. EPA) is now enforcing the Renovation, Repair and Painting (RRP) Rule. The law requires "lead paint safety certification" for anyone who does remodeling or demolition in homes, schools, and childcare facilities constructed in and before 1978. Failure to obtain the proper certification can result in fines of up to $37,500 for each
day and each location where violations occur.
EPA inspectors are responding to leads and conducting worksite and paperwork inspections throughout California and the other states in EPA's Region 9. EPA is also receiving tips from the public about possible violations through its online Tip & Complaint form. When EPA receives a tip, inspectors evaluate whether any state or local laws are being broken. If they are, city or county building officials or the Department of Industrial Relations' Division of Occupational Safety and Health (DOSH) immediately respond in order to quickly address any unsafe operations or conditions.
Tips are then filed for future inspections and contractors or construction firms are sent a warning letter. California law parallels several of the RRP requirements. While state and local officials cannot address federal violations, they can issue citations for violating state requirements, and pass along information to EPA inspectors. The EPA's interim final enforcement document has more information about this enforcement regulation.
To comply with the regulation, contractors, or at least one individual employed by a licensed contractor's firm, must be enrolled in and complete approved training by December 31, 2010. Training costs vary by provider. Once training is complete, the contractor needs to apply for certification, which costs $300 and is valid for five years. The U.S. EPA has more information on training providers and applying for certification at www.epa.gov/lead or by calling 800.424.LEAD (5323).
It is not necessary to submit EPA certification or proof of lead safety course completion to CSLB. CSLB's website provides a link to the U.S. EPA's list of certified firms in their area so consumers can check a contractor license and certification status in the same location.
The U.S. EPA is soliciting input from small business regarding exterior lead paint on public and commercial buildings. The advice and recommendations will be considered as the agency develops regulations regarding the renovation, repair, and painting of such buildings.