---
Weigh in on 2013 Building Energy Efficiency Standards
Before
They're Set
HVAC contractors and others concerned with the Building Energy Efficiency Standards contained in the California Code of Regulations (CCR), Title 24, Part 6, have a chance to provide input for updates to the 2013 version.
California Energy Commission staff is conducting workshops to present potential revisions to the standards and obtain comment and suggestions from the public. The scope, time and dates of these workshops will be made available to the public on the Energy Commission website. The Energy Commission's rulemaking schedule is also available online. The proposed amended standards are expected to be adopted
in 2014.
Avoiding HVAC Permits Can Subject You and Your
Customers to Fines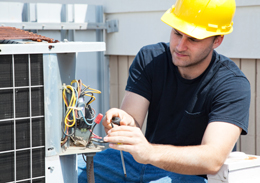 If you repair or replace warm-air heating, ventilating, and air-conditioning (HVAC) units, make sure to obtain a building permit from the city or county where the work is being done. Without the proper permit, you face enforcement action by the California Energy Commission and CSLB, and subject your customers to fines and the possibility of additional repairs.
During CSLB sting operations during the past three years, investigators have noted a growing trend of licensees who are violating state law by telling consumers that permits are not required for installing HVAC systems. CSLB and the Energy Commission recently issued a press release informing Californians that their contractor must obtain these permits, and that a homeowner's insurance policy can be cancelled if the insurer finds out that work has been done on the property without the required permit.
CSLB sting operations will continue to target HVAC contractors who skirt the permit laws and regulations.
The state's 2008 Building Energy Efficiency Standards require that HVAC ducts perform with no more than 15 percent in leakage. More information on the 2008 HVAC change-out guidelines, and information cards that explain the process for contractors and consumers, are available in English and Spanish and can be printed out from the commission's website.