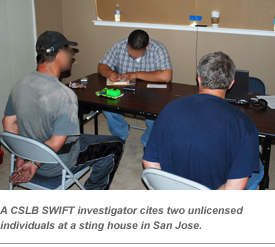 Contractors State License Board Turns Up Heat on Illegal and Deceptive Internet Advertisements
New warning after second wave of multi-state enforcement operations
For the second time in three months, the California Contractors State License Board (CSLB) teamed up with contracting boards from around the country, as well as the National Association of State Contractors Licensing Agencies (NASCLA), to draw attention to illegal and deceptive ads on popular Internet bulletin boards like craigslist.
Contractor agencies are warning consumers who are looking for a contractor and who use craigslist or other similar websites about the extreme risk of hiring someone whose only goal is to rip them off.
"While craigslist serves as a valuable free tool for legitimately licensed and insured contractors, the number of illegal and deceptive ads is growing like wildfire," said CSLB Registrar Steve Sands. "As a result, it's difficult, if not impossible, for consumers to figure out who's legitimate and who isn't."
In mid-September, contractor boards in seven states (Arizona, California, Nevada, Oregon, Rhode Island, South Carolina, and Utah) conducted simultaneous enforcement operations, targeting illegal craigslist and other online bulletin board ads. California's three undercover sting operations took place in San Jose, Hanford, and Mission Hills where investigators posed as homeowners looking for roofing, landscaping, painting, and fencing contractors.
Thirty-six individuals were arrested and now face misdemeanor charges of contracting without a license (Business and Professions Code section 7028). Two of those arrested are registered sex offenders; another is a convicted felon for statutory rape. One individual was caught in a CSLB sting in 2010 for unlicensed activity and now faces a mandatory 90-day jail sentence if convicted a second time.
Thirty of the individuals also will be charged with illegal advertising (Business and Professions Code section 7027.1). A number of others will be charged with requesting an excessive down payment (Business and Professions Code section 7159.5) for seeking more than 10 percent of the contract price or $1,000, whichever is less. The misdemeanor charges carry a maximum penalty of six months in jail and/or up to a $5,000 fine.
Eight of the phony contractors also were issued Stop Orders (Business and Professions Code section 7127). CSLB investigators can halt job site activity when any person with or without a contractor license does not have workers' compensation insurance coverage for employees. Failure to comply with a Stop Order can result in misdemeanor charges and penalties, including 60 days in jail and/or up to $10,000 in fines.
The issue of illegal online advertising isn't new. CSLB addressed the problem with craigslist in 2006 and 2007. As a result, craigslist has a link to contractor license information at the top of its "Skilled Trade Services" page, and to the California Department of Consumer Affairs website.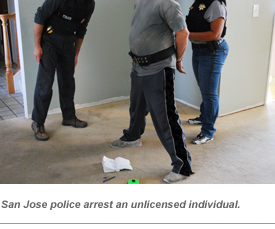 The company added an additional step to the advertisement posting process that requires the user to indicate whether he or she is licensed. Regrettably, unlicensed operators quickly found a way around the requirement and now the process is virtually useless. CSLB has tried, unsuccessfully, to have craigslist address these concerns. In addition, unlicensed operators also are advertising in different sections of the website; a number of targets from last week's sting had ads in the "Household Services" section.
CSLB will continue to join its national contractor agency partners to identify phony operators who use Internet bulletin boards, and educate consumers about the importance of hiring state-licensed contractors.