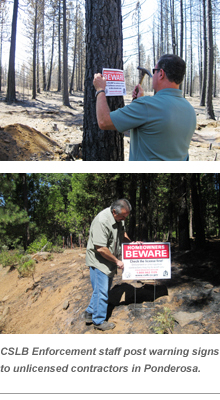 CSLB Serves as Post-Disaster Responder
Did you know that CSLB has an important role at post-disaster locations? When structures are destroyed from wildfires, floods, earthquakes or any other California natural disaster, CSLB is one of the first agencies to respond during the recovery process.
Take, for example, the 27,000-acre Ponderosa Fire in Tehama and Shasta counties in August that was sparked by lightening. More than 1,000 fire personnel and dozens of engines and other equipment battled the incident for 13 days. Once the smoke had cleared, 52 residences and 81 outbuildings were destroyed; and one residence and five outbuildings were damaged.
As a member of the California Emergency Management Agency's disaster recovery team that provides a Local Assistance Center (LAC) for affected communities, CSLB staff is on site once evacuation orders and road closures are lifted and the LAC is set up. CSLB staff provide educational information and resources for property owners who will be looking for contractors to rebuild their homes and other structures. Many homeowners are not aware of disaster-specific state contracting regulations that have been established for their protection.
CLSB enforcement representatives also sweep the disaster areas and post yard signs to remind consumers about the need to only hire state-licensed contractors. Posted information also reminds those who want to contract in a state- or federally declared disaster area that they could be charged with a felony violation if they are not licensed by CSLB.