When is it Okay to Work Under Someone Else's License?
Never. You knew that, right?
But one of your licensed friends says that you can subcontract a job for him or her and just work under their license number. Flip that scenario over and you're a licensee who needs someone to complete trade-specific work on a contract and a worker tells you he or she can do it as though they were an employee under your license.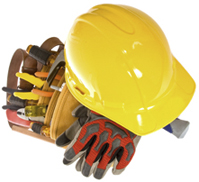 Nope, any way you try to work it, it's still illegal for you to contract for construction or home improvement work over $500 in labor and materials without having your own state contractor license. All too often, CSLB's Statewide Investigative Fraud Team and Enforcement division representatives hear a variety of twists and turns in stories about why an individual has used someone else's contractor license. None of them works. That's the law in California. It's no different than if you tried to use someone else's driver license.
In case you think we're kidding, here's the legal language from the state Business and Professions Code:
119.
Any person who does any of the following is guilty of a misdemeanor:
(a)
Displays or causes or permits to be displayed or has in his or her possession either of the following:
(1)
A canceled, revoked, suspended, or fraudulently altered license.
(2)
A fictitious license or any document simulating a license or purporting to be or have been issued as a license.
(b)
Lends his or her license to any other person or knowingly permits the use thereof by another.
(c)
Displays or represents any license not issued to him or her as being his or her license.
(d)
Fails or refuses to surrender to the issuing authority upon its lawful written demand any license, registration, permit, or certificate which has been suspended, revoked, or canceled.
(e)
Knowingly permits any unlawful use of a license issued to him or her.
(f)
Photographs, photostats, duplicates, manufactures, or in any way reproduces any license or facsimile thereof in a manner that it could be mistaken for a valid license, or displays or has in his or her possession any such photograph, photostat, duplicate, reproduction, or facsimile unless authorized by this code.
(g)
Buys or receives a fraudulent, forged, or counterfeited license knowing that it is fraudulent, forged, or counterfeited. For purposes of this subdivision, "fraudulent" means containing any misrepresentation of fact.
As used in this section, "license" includes "certificate," "permit," "authority," and "registration" or any other indicia giving authorization to engage in a business or profession regulated by this code or referred to in Section 1000 or 3600.
125.
Any person, licensed under Division 1 (commencing with Section 100), Division 2 (commencing with Section 500), or Division 3 (commencing with Section 5000) is guilty of a misdemeanor and subject to the disciplinary provisions of this code applicable to him or her, who conspires with a person not so licensed to violate any provision of this code, or who, with intent to aid or assist that person in violating those provisions does either of the following:
(a)
Allows his or her license to be used by that person.
(b)
Acts as his or her agent or partner.
In many cases, using someone else's license or allowing another person to use your state-issued license can put you in even more trouble with state labor and tax laws.
If you or others you know have been under the false impression that "sharing" a state contractor license is okay, think again. Don't risk discipline against your license or a violation that may delay or prevent you from receiving a license.
CSLB encourages you to either request a hard copy application or download the form from our website to get your own license. For information and an application, contact CSLB at 1.800.321.CSLB (2752), www.cslb.ca.gov or www.CheckTheLicenseFirst.com.