---
Federal Regulators Stepping up Enforcement
of Lead Paint Rule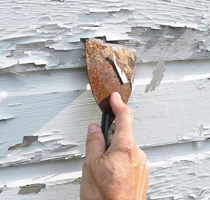 Enforcement officials with the United States Environmental Protection Agency (US EPA) indicate they are relying on tips from the public and industry to step up enforcement of the lead paint Renovation, Repair, and Painting (RRP) rule. To fully and effectively investigate these tips, complainants should provide as much information as possible, including the company or contractor's name and address, and a description of the project or activity that is not compliant.
The RRP rule went into effect in 2010. The rule requires that at least one person in any firm that is engaged in construction activities that disturb paint in or on any building constructed in 1978 or before receive training and register with US EPA to be certified. Information on training providers and certification firms are available online. Certification is $300 and is valid for five years. Those who do not complete the training and certification face fines up to $37,500 for each day of violation.
In 2011, US EPA conducted more than 1,000 compliance inspections. An even higher number of these record-keeping audits and on-site inspections are planned for 2012.
Construction-Related Regulations Adopted and in Progress
State regulations related to contracting are being revised or introduced on a regular basis. If you want to submit public comment, follow the guidelines advised by the agency that is submitting the regulatory change that interests you.
This is not a complete list; you can check the Office of Administrative Law's (OAL) Notice Register each week as regulations are submitted to begin the rule-making process. Toward the end of the document you'll see the effective date for regulations approved by OAL and submitted to the Secretary of State.
Below are examples of changes to state regulations that are under way:
| | | |
| --- | --- | --- |
| | • | The Occupational Safety and Health Standards Board met on March 15, 2012, to consider public comment on changes to high voltage electrical and tree service safety regulations . No comment submitted after March 15 will be considered unless the board extends the rule making process, which would be noted by the board. On January 18, 2012, regulations affecting labeling and safe operation of rope slings were adopted (see page 90 of the regulations). On March 8, 2012, regulations clarifying the prohibition of fixed and portable single-rail ladders went into effect, and, on March 2, 2012, standards for vehicle exhaust retrofits were established and a non-mandatory vision testing procedure added. |
| | • | On January 26, 2012, the Department of Resources, Recycling and Recovery (Cal Recycle) adopted regulations for implementation and reporting as required by the Carpet Stewardship Act of 2010, which raised the tax on carpet by five cents a square yard. Cal Recycle also approved regulations to provide procedural clarifications for mandatory commercial recycling, which was approved by the legislature and governor in 2011. The rule-making process implementing provisions of a paint stewardship and recycling law passed in 2010 is in progress. |
---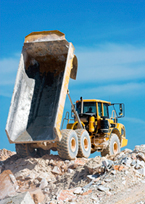 Regulation Approved for Diesel Fleet's Time to Comply with Air Standards
On December 14, 2011, major amendments to the Air Resources Board's (ARB) Off-Road Diesel Regulation were made, including the delay of the first compliance date, to no earlier than January 1, 2014. This regulation is part of ARB's efforts to reduce emissions from diesel-powered construction and mining vehicles, and are to help reduce diesel particulate matter (PM) and oxides of nitrogen (NOx) emissions from in-use (existing) off-road heavy-duty diesel vehicles in California.
The regulations also provide a path to compliance through credits for low use, as well as simplifying and making minor modifications. For more information on reporting off-road vehicles to ARB, call 877.593.6677 or email. More information on vehicle and equipment regulations is available by calling 866.634.3735.
Large fleets should have submitted statements affirming the accuracy of information reported to ARB by March 1, 2012. Medium fleets must submit the same statements in 2016, and small fleets in 2018. Annual updates must include reporting of engine hour meter readings. More information is available in ARB's "Knowledge Center for the Off-Road Diesel Regulation."