Preventable Mistakes Hold Up a Majority of LLC License Applications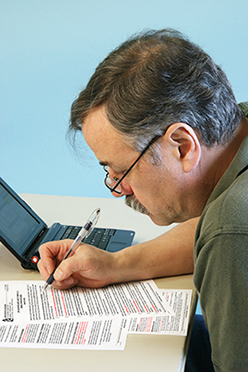 Avoidable mistakes are at the core of the high rejection rate of Limited Liability Company (LLC) license applications received by CSLB.
Of the 1,140 LLC applications received from January 2012 through July 31, 2013, just 330 licenses have been issued — a 71 percent rejection rate.
The high percentage of rejections has varied little each month since CSLB began accepting applications for LLC licenses. CSLB's Licensing staff is seeing the same mistakes hold up the process.
The most common errors:
The personnel listed on the CSLB application don't match those listed on Secretary of State (SOS) records.
The LLC/SOS registration number and/or business name is missing or incomplete.
Personnel information on the application needs clarification or is missing; for example, date of birth, middle name, title.
Questions are missing or incomplete (page 2 of the LLC license application, numbers 10-14).
LLCs are qualified by responsible managing officers, responsible managing members, responsible managing managers, or responsible managing employees. All officers, members, managers, directors, and qualifiers of LLCs must be listed on the application as the person of record.
Complicating the situation is a delay at SOS in entering the Statement of Information (SOI) from LLC officers who must first register with that state office. There is a two-month backlog at SOS in logging in that information that is beyond the control of CSLB.
SOI information is required for CSLB to process the LLC information; it provides staff with the total number of personnel, crucial in determining the appropriate amount of LLC liability insurance required (between $1 million and $5 million).
SOS does offer expedited SOI processing for those who seek priority service, at an additional fee.