California Building Code Course Offered in South State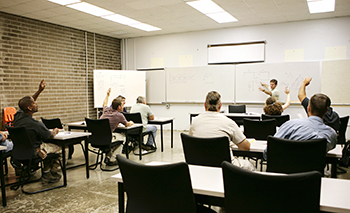 California's new residential building codes are the focus of a class being offered in Southern California by local Building Industry Association (BIA) chapters and the BIA's California Homebuilding Foundation (CHF) at the BIA of San Diego office on November 15, 2013, 8:30 a.m. to noon.
The course, co-sponsored by the California Department of Housing and Community Development, will cover recent and upcoming changes to a number of state building codes, including:
California Energy Commission's residential energy efficiency standards that become effective in January 2014,
The Department of Housing and Community Development's Green Building Standards Code, and
Miscellaneous topics that include local modification to state codes and California Residential Code's new "lot-line" flexibility change.
Registration is required through CHF at http://www.mychf.org/.
---
Free Classes in HVAC Training Wrapping Up for Year
The last in a series of free training classes for C-20 Warm-Air Heating, Ventilation and Air-Conditioning (HVAC) contractors, service technicians, and installers are being held statewide by the Institute of Heating and Air Conditioning Industries Inc. (IHACI) and California's major investor-owned utilities.
Classes are being held in October. Those attending will learn the newest trade-specific techniques and technologies in the HVAC industry, as well as the unique requirements of California's Title 24 energy efficiency regulations. The fall classes focus on North American Technician Excellence (NATE) training, or complying with California's unique HVAC standards and laws through IHACI's California Quality Installation, Quality Maintenance and Quality Service (CAQI/QM/QS) program.
The co-sponsoring utilities, depending on class location, are Southern California Edison (SCE), Southern California Gas Company (SoCalGas), San Diego Gas & Electric (SDGE) and Pacific Gas and Electric Company (PG&E). Classes are held at company facilities.
Seating is limited and on a first-come, first-served basis. For registration or more information, look for the training link at www.ihaci.org.