State's Construction Industry, Contractors Coming Back to Life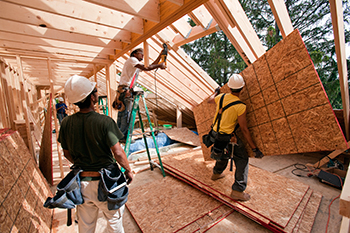 "It's a whole lot more fun to come to work these days," says John Mullin, president of Pacific M Painting in Escondido and a board member with the California Professional Association of Specialty Contractors (CALPASC). "There is far less pessimism in the market."
A sampling of contractors and trade associations from around the state indicates that the first rays of recovery from the economic downturn that shook California's construction industry are finally beginning to shine. Statistics from CSLB and building sources confirm that sentiment, but no one is turning somersaults, at least not yet. It appears that the business comeback for contractors still varies according to region and trade type.
The uptick may be a long way from the peaks of the early 2000s, but few are complaining after having survived the latter part of that decade, which saw the worst economic collapse since the Great Depression—with the housing and real estate industries leading the plunge.
"It was absolutely anemic in 2010," said Michael Strech, president and CEO of the 450-plus-member North State Building Industry Association (North State BIA) that represents builders and contractors in the greater Sacramento area. "We have a pulse again. There was a slight uptick in 2012, and 2013 has been good; the trends have been positive. But we're not anywhere near the level of production to sustain the supply and demand that's there."
Building permits compiled by the California Homebuilding Foundation/Construction Industry Research Board (CHF/CIRB), the research/education/scholarship arm of the California Building Industry Association (CBIA), confirm that the state is on its way out of the recession.
The number of permits pulled in 2012 for single-family homes in California rose to 27,558, the highest point since 2008, CHF/CIRB statistics show. There already have been 18,268 permits pulled through June of this year, putting 2013 on pace to surpass the last high-water mark for single-family permits in 2008 when 33,050 were drawn. Multi-family housing permits have almost tripled in California since 2009—from 10,967 then to 32,080 in 2012. CHR/CIRB data show that 23,755 multi-family permits already were pulled through June, indicating a comparatively robust construction year in that category, as well.
Commercial permit valuations also show marked increases in most categories since the dark days of 2009-10. For instance, valuation of permits issued for industrial projects skyrocketed to $1.41 billion in 2012 from $359 million in 2009. The data also lists California office permit valuations at $1.45 billion last year from $511 million in 2009.
CSLB contractor license renewals on the rise
Although the number of applications for new contractor licenses showed little change in fiscal year (FY) 2012-13, the number of license renewal applications rose to 124,370 last fiscal year—the highest point since FY 2007-08. The recent low point for CSLB renewals was FY 2009-10, when 116,523 licensees opted to renew, coinciding with the construction market's steep decline. That number has modestly, but steadily risen since then. Both larger and smaller contractors CSLB contacted for this article are experiencing the construction rebound. Cindy Carey and her husband, Phil, operate San Jose-based Starburst Construction Company and specialize in residential remodels, custom homebuilding, and light commercial projects located mostly in the southern San Francisco Bay Area.
"There's much more excitement around here for everybody, [compared to] where we were two to four years ago," says Carey.
It's a far cry from 2010, when she and the couple's son were forced to lay themselves off from their company when jobs dried up. Carey says Starburst already has seen more work in the first six months of 2013 than all of last year, and that she foresees that trend continuing. She says their operation also has the added benefit of contracting in a wealthier region where more disposable income is available for upscale renovations.
"There's a lot of money [in the areas where] we focus our business," she said. "The prices we're used to charging seem to be better received in those areas."
Carey added that she's hearing similar positive reports from fellow Bay Area contractors and those with the 7,000-member National Association of the Remodeling Industry, on which Carey serves as a board member for the Silicon Valley chapter.
Broad-based recovery under way
Southern California contractors contacted by CSLB say the housing recovery is putting many companies and their employees back to work.
"Other areas of the state that were harder hit during the recession now seem to be joining in the revival..."
Brian Christianson of CalCoast Construction, a framing business primarily operating in Ventura and north Los Angeles County, continues to hire back workers from the low point of 2009-10, when he sized down to a skeleton crew of 18. Today, Christianson says he has 60 or 70 craftsmen working mostly on multifamily units, and he's booked through the end of the year with projects. He says he really noticed an upswing in construction of the multi-family units in 2012, and expects the single-family home market to follow suit.
"I'm very much optimistic for the next five to seven years," Christianson says. "Single family has started to come back, but it's not there yet."
"There is a lot of dirt being moved around," adds Mary Kathawa, president of ProWall, a large plastering company based in San Diego that does work throughout the south state. "We're definitely seeing an uptick in workload. It's been a solid year."
However, Kathawa cautions that she's keeping some of her enthusiasm in reserve. With memories of the recession still fresh—"scary bad, it was slow as molasses," she recalls—Kathawa says that developments such as the Affordable Health Care Act, with its unknown costs, rate hikes for workers' compensation insurance, and scarcity of qualified labor will complicate her ability to maintain a profitable operation.
Other areas of the state that were harder hit during the recession now seem to be joining in the revival, says Larry Rohlfes, interim executive director for the California Landscape Contractors Association.
"If you would have called me six months ago, I would have said that the areas picking up were the San Francisco peninsula, San Diego, Orange County and Los Angeles," says Rohlfes. "But members elsewhere in the state, such as Sacramento, have gotten busy."
Landscape contractors are typically the last ones to complete a project, he says, so it's also likely that some of the business lag has been due to that factor.
Recession leaves fewer competitors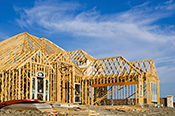 In addition to the work generated by more residential and commercial projects, longtime Fresno-area landscape architect Tom DeLany attributes at least some of his increased business to a thinning of the competition during the devastating downturn.
"A lot of players dropped out of the market," says DeLany, CEO of All Commercial Landscape Service (ACLS) Inc. "The marketplace has consolidated quite a bit. And we're much leaner, much sharper." DeLany says his firm's diversified offerings such as landscape maintenance, commercial tree work, and water consulting also helped them weather the recession.
Other large contractors in the Central Valley also are breathing easier these days. In the Bakersfield area, John Pavletich, CEO of Pavletich Electric & Communications, reports that national and local homebuilders are ramping up production there, which means busier times for his electrical and communications contracting firm.
"What we're seeing is national builders starting to come back to Bakersfield, and the local builders' numbers are up," Pavletich says. "If they're coming back to the community, that tells me they're bullish on the community."
In addition to electrical wiring for residential and commercial, Pavletich's firm also does contract work for the telecommunications industry, much of it involving fiber optic wiring and placement, and that workload has increased as companies upgrade and add infrastructure in the south valley and Central Coast to meet consumer demand.
In the Fresno area, Jim Crawford Construction Co. Inc. that specializes in paving and grading has enjoyed its best recent year to date according to CEO Shelly Crawford.
Site preparation projects have been coming together in all sectors, she says, after a prolonged down period. The company has had steady work since January 2013, (unusual in the winter months), and has "a lot on our books" through the remainder of the year.
"We're seeing it turn," says Crawford, who with her brothers, Jim Jr. and Marshall, run the company. "We see the residential moving, and then commercial, and then everything around it starts moving, like schools."
Some industries report mixed results
The recovery has been a hit-or-miss proposition so far for many HVAC contractors, says Suzie Evans, executive vice president for the Institute of Heating and Air Conditioning Industries Inc. (IHACI). "It's certainly better than it was, but it depends on who you are talking to," Evans says. "It's a very, very slow recovery."
The HVAC industry is more weather-driven than others, she explained, which may contribute to the mixed picture for these contractors. IHACI, based in Glendale, represents 650 members that include contractors, manufacturers, utilities, and affiliates such as service technicians.
Mike Carson, of Kahn Air Conditioning, a longtime HVAC contracting firm in the Los Angeles area, agrees that he's still waiting to see a significant upturn in orders. Customers are not purchasing top-end heating/cooling systems as in the past, he says, although the service side of the business is growing.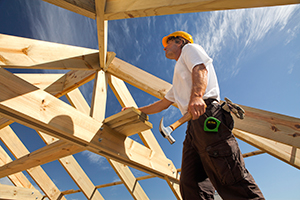 In the roofing industry, John Upshaw, executive director of the Independent Roofing Contractors of California, says the improving fortunes of his member roofers can be gauged by enrollment in the association's training programs. After hitting a 20-year low in the number of apprentice hours logged in 2010, there's been a "tremendous improvement" as contractors enroll aspiring roofers into the association's 3½-year apprenticeship program, Upshaw says.
He reports that there's similar demand for fire sprinkler fitter courses, provided by the California American Fire Sprinkler Association, which Upshaw also leads. Upshaw believes new laws regulating residential sprinkler installations, coupled with an expected resurgence in new housing construction, will create a demand for qualified fitters, as well.
But Upshaw and others CSLB spoke with say the presence of unlicensed contractors undercutting legitimate tradespeople still weighs heavily on the construction industry.
"As long as we do a good job keeping the bad guys out of the market, things will improve," says Upshaw. "They're eroding the competitiveness of the marketplace."