2013 Utility Rebates for HVAC Products Need Contractor Sign-Off
Licensed C-20 Warm-Air Heating, Ventilating and Air-Conditioning (HVAC) contractors are reminded that they need to sign certification forms to validate business and multifamily customer rebate and incentive applications that are offered by the state's major investor-owned utilities.
Customers and/or the recipient of an HVAC rebate or incentive must certify that they have used a licensed contractor, and have followed permitting requirements for the installation. This certification applies to all work or installation that requires a building permit.
Pacific Gas & Electric Company (PG&E) recently updated its rebate and incentive applications, adding language and required fields for name, company name, signature, permit number, and a check box indicating compliance with the requirement(s). The contractor must fill in these required fields for the rebate or incentive to be valid and processed. PG&E rebate and incentive applications are available at www.pge.com.
Southern California Gas Company (SoCalGas) and San Diego Gas & Electric (SDGE) have similar rebate programs for 2013. Go to www.socalgas.com/ or www.sdge.com/ for more information.
---
Free HVAC Evening Classes Teach Newest Industry Trends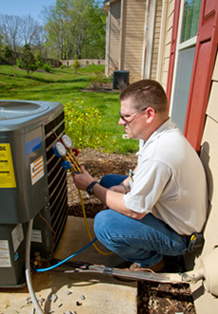 Free training classes for C-20 Warm-Air Heating, Ventilation and Air-Conditioning (HVAC) contractors, service technicians, and installers are being held statewide by the Institute of Heating and Air Conditioning Industries, Inc. (IHACI) and the state's major investor-owned utilities. This training offers new trade-specific techniques and technology, as well as the unique requirements of California's Title 24 energy efficiency regulations.
The classes include training materials and are offered in the evening to accommodate working HVAC professionals. IHACI members are eligible for continuing credits to maintain their North American Technician Excellence (NATE) certification; members who attend all training in a given series receive a certificate of attendance.
Participants can enroll in either classes for NATE training, or for the California Quality Installation, Quality Maintenance and Quality Service (CAQI/QM/QS) program. NATE has approved the IHACI classes for continuing education credits. CAQI/QM/QS was initiated by IHACI for the purpose of bringing professionals into compliance with California's unique HVAC standards and laws, such as Title 24.
The co-sponsoring utilities are Southern California Edison (SCE), Southern California Gas Company (SoCalGas), San Diego Gas & Electric (SDGE), and Pacific Gas and Electric Company (PG&E). Classes are held at utility company facilities.
A 2013 class schedule has been set for Southern California sites and for one series in Tulare. The roster of classes for PG&E's Stockton training center is still being finalized. Class registration is available at www.ihaci.org under the training link.