Arrest Made in Scam Targeting CSLB Applicants, Licensees
Second suspect added to CSLB's Most Wanted list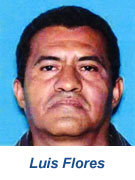 One arrest has been made and another is pending after a comprehensive investigation into a scam that targeted licensed contractors and those attempting to become licensed.
Luis Manuel Flores, 50, was arrested in February while crossing the border into the United States and remains jailed without bail (Penal Code section 1275) at the Rio Cosumnes Correctional Center in Sacramento County. Flores is charged with one count of Conspiracy to Cheat/Defraud another person of property (Penal Code section 182(a)(4)).
An arrest warrant has been issued for a second suspect, Maico Merdinand Dimla, 41, who is believed to be in the Tijuana, Mexico, area. Dimla has been added to CSLB's Most Wanted list.
The multi-faceted investigation began last summer after a number of license applicants told investigators that they were conned by people falsely representing themselves as CSLB employees. Applicants were told they needed testing study guides, while licensees seeking an additional classification were told they needed continuing education credits or licensing exams, and needed to pay with a credit card over the telephone.
CSLB issued an industry bulletin and an alert on the CSLB website to warn contractors and encourage them to provide investigators with leads. The warnings dramatically cut the number of people being victimized.
Investigators believe Flores and Dimla created a fraudulent business and website with names similar to CSLB. While in the Tijuana area, it is believed that the two contacted CSLB applicants and licensees, using phone numbers that appeared to the victims as originating from the 916 area code (Sacramento area). At this time, at least 50 people have been defrauded in amounts ranging from $98 to $250 each. The number of victims could increase once people realize they've been conned.
Remember that license fees are only payable through the mail or at CSLB Headquarters in Sacramento.
Anyone with information on Maico Merdinand Dimla's whereabouts should contact their local law enforcement agency.