CSLB Spring Blitz Catches Nearly 80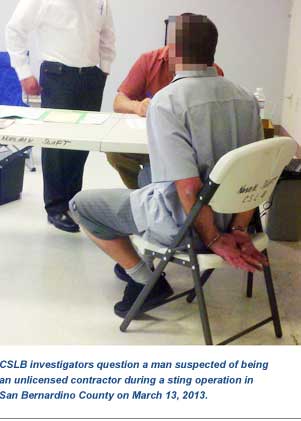 Dozens of unlicensed operators face criminal charges after being caught in simultaneous statewide undercover sting operations conducted by CSLB on March 13 and 14, 2013. Among those arrested during the spring California Blitz were a registered sex offender, a suspect with a prior conviction for statutory rape, an individual with an active arrest warrant for corporal punishment of a minor child, one on federal probation for bribery, and several caught using contractor license numbers not belonging to them.
CSLB's Statewide Investigative Fraud Team (SWIFT) investigators conducted stings in Orange (Orange County), Lawndale (Los Angeles County), San Bernardino (San Bernardino County), Chico (Butte County), Oakdale (Stanislaus County), and Bakersfield (Kern County). SWIFT investigators posed as homeowners seeking bids for various home improvements.
A total of 78 individuals were arrested on misdemeanor charges of contracting without a license (Business and Professions Code section 7028). Fifty-seven of the individuals also are accused of illegal advertising (Business and Professions Code section 7027.1). Twenty-four others may be charged with requesting an excessive down payment (Business and Professions Code section 7159.5), while 17 of the phony contractors were issued Stop Orders (Business and Professions Code section 7127). CSLB investigators can halt job site activity when any person with or without a contractor license does not have workers' compensation insurance coverage for employees. Fourteen suspects were detained by the Department of Homeland Security / U.S. Immigration and Customs Enforcement (ICE) for identification and/or deportation.
A majority of those caught were identified through advertisements on craigslist.org.
---