CSLB Backs Three Bills to Curb Underground Economy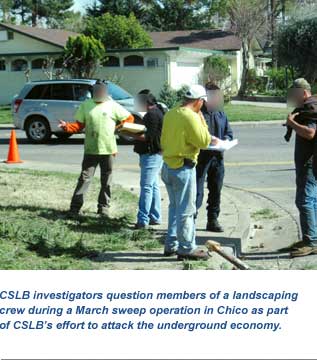 A trio of bills intended to attack the underground economy and put legitimate contractors in a position to fairly compete for work was introduced in the 2013-2014 legislative session. These bills are sponsored by CSLB.
The most significant of the three is Senate Bill 263, which would strengthen and clarify two Business and Professional Code (B&P) sections, 7028 and 7031. The amendment to Section 7028 would allow a criminal misdemeanor charge to be filed against contractors who agree to a construction contract when their license is under suspension for failing to pay a tax or civil liability. Violators still would be subject to CSLB administrative actions.
The second part of the bill pertains to those who are properly licensed when contracting for work, B&P Code section 7031. It would amend existing language to allow contractors who, during the course of a project, work briefly out of their classification or who let their license lapse, to still be paid for the work they had legally performed. Recent court rulings using current statutes have rendered interpretations that are punitive to contractors, forcing forfeiture or reimbursement of the entire contract amount. The revision would clarify the law and address an unfair situation that has been exploited by some looking to evade payment for work done by a contractor while his or her license was still valid.
Senate Bill 262 would revise B&P Code section 7068.1 to enable CSLB to take administrative action when investigations uncover an absentee qualifier. The bill would provide for criminal charges to be filed against a qualifier who fails to exercise direct supervision and control of a firm's construction operations that result in a criminal violation. The bill was drafted in response to illegal business practices that have been uncovered in which some contractors who are retiring or unable to work are being paid for continuing to serve as the license qualifier even though they are not actively involved in the business.
CSLB's Enforcement division recently uncovered an egregious case of license misuse in Southern California, where three persons are facing criminal charges in a "boiler room" operation where fraudulent contracting schemes were marketed to homeowners with the use of "rented" valid licenses from contractors for a monthly fee.
Senate Bill 261 addresses cases where suspended contractors have altered a license to make it appear legitimate. Such cases now are referred to local prosecutors. The proposed new B&P Code section, 7114.2, would give the CSLB Registrar authority to impose discipline for misrepresentation of the license status.
A fourth CSLB-backed bill, Assembly Bill 993, would amend B&P Code section 7085.5 to more clearly spell out the board's arbitration process, including the role of the arbitrator.