CSLB Social Media Sites Provide Information Scoops for Contractors

Social media sites provide much more than socializing when it comes to CSLB's discussion threads with its 1,225 fans, or "likes," on Facebook and 1,131 "followers" on Twitter. Building dynamic, well-liked social media pages is just another way CSLB is able to conduct real-time conversations with licensees and other friends about board or industry news, changing laws, enforcement activity, and more. It's like having a direct line to what's happening inside CSLB.
Since the average Facebook subscriber has 262 friends, if a single CSLB news item is shared with just one person's newsfeed, it has the potential to reach thousands. Even with 1,225 fans, a typical CSLB post has the potential to be read by nearly 300,000 people. Facebook allows followers to ask questions and receive quick responses in a unique way. Questions can be asked and answered in a semi-private forum that allows our followers to benefit from the conversation without having to pick up the phone or write a letter.
Following CSLB on Twitter is a bit different. Every message on Twitter is limited to 140 characters, so messages from "@CSLB" will be brief, and usually include other links to help complete discussions.
We encourage you to join the conversations by "liking" CSLB on Facebook, and "following" us on Twitter.
---
2013 Contractors License Law & Reference Book Now Available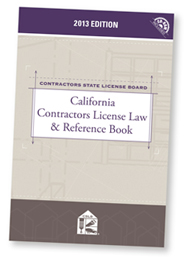 This year's edition of the Contractors State License Board (CSLB) California Contractors License Law & Reference Book is now available for purchase or for free viewing online. The updated publication, totaling just over 1,000 pages, provides easy reference to new and amended construction laws that took effect January 1, 2013.
The book's convenient, all-in-one format continues to provide CSLB's history and mission, and specialized sections about becoming a licensed contractor; home improvement; business management; construction standards and safety regulations; California's Business and Professions Code and other construction-related state codes; and complete California Contractors License Law rules and regulations.
"This book is designed as a quick-reference tool to help our state's 300,000 licensees keep up with continual changes in state contracting law," said CSLB Registrar Steve Sands. "It's also a great resource for anyone trying to get their state contractor license."
The 2013 law book can only be purchased from the publisher, LexisNexis, and is not available at any CSLB office. This year's law book includes a convenient CD and costs $25 plus tax, and $9.49 for shipping and handling. To order online, visit the LexisNexis website.
---
Cash Payments to CSLB Must Be Exact Amount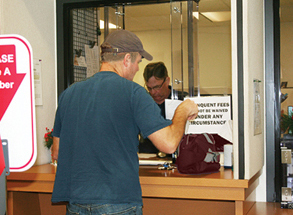 Be sure to bring the exact cash amount when paying your license or registration fees at CSLB's Sacramento headquarters. Public counter staff is unable to make change, but can accept an exact cash amount, as well as major credit cards, checks, or money orders.
Payments are not accepted over the telephone. Payments by mail can only be made by check or money order.
---