Toxic Paint Removers: Safer Choices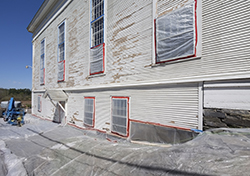 Less toxic paint removal products are available to safeguard contractors from solvents that have caused fatalities, according to the California Department of Public Health's (CDPH) Occupational Health Branch.
At issue is methylene chloride (MeCl), a chemical solvent widely used in paint strippers, metal cleaners, and degreasers. Degenerative diseases, including cancer, can occur if the chemical is inhaled or absorbed by a person's skin. More than a dozen contractors, nationwide, have died from this exposure. Workers can be exposed when refinishing cabinetry, removing paint or coatings from wood, steel or other surfaces, manufacturing foam products, painting with epoxy paints, and spraying adhesives.
CDPH recommends that contractors and workers always read product labels and Safety Data Sheets (SDS) to find out whether MeCl is in the product.
CDPH recommends the following:
Find out if methylene chloride is in products you use; become familiar with the health hazards in paint strippers.

Use less toxic alternative choices. See guide to choosing safer paint stripping products.

Use proper personal protective equipment and adequate ventilation if paint strippers containing methylene chloride are used. See guide to personal protective equipment for paint strippers.
You also can find more information on the CDPH website, Preventing Worker Deaths from Paint Strippers Containing Methylene Chloride, or call the Hazard Evaluation System and Information Service at CDPH with questions about methylene chloride and other workplace hazards at (toll-free) 866.282.5516.