How HVAC Contractors Can Be a Consumer 'Ambassador'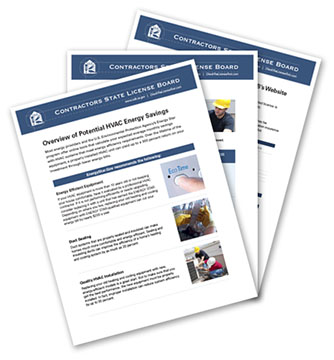 CSLB is providing C-20 Heating, Ventilating, and Air-Conditioning (HVAC) contractors with consumer fact sheets that offer valuable information to educate prospective clients.
CSLB launched the Ambassador Program last March. Developed in coordination with industry partners and the California Energy Commission, the Ambassador Program provides materials for C-20 contractors to educate consumers who plan to purchase and install new HVAC units.
At the same time, the program also seeks to warn consumers about the dangers of hiring unscrupulous contractors that do not comply with license and permit requirements.
Contractors can download a package of materials from CSLB's website to distribute. They will receive the following:
Description of expected energy savings from a proper HVAC installation from the U.S. Environmental Protection Agency's Energy Star program
Comparison chart showing the benefits of contracting with a licensed contractor
Example of how to use CSLB's online Instant License Check to verify contractor license and workers' compensation insurance status
Checklist to guide consumers as they navigate the HVAC purchasing process
The program also aims to elicit more compliance from contractors with workers' compensation insurance and building permit requirements.