Paying Fees Just Got Easier at CSLB Offices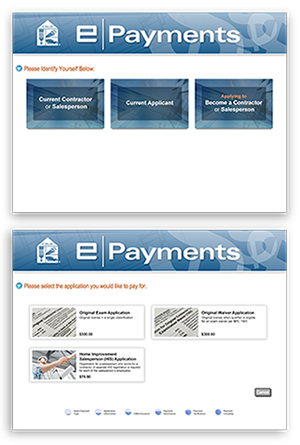 A revamped computer payment system for contractors who pay their fees by credit card is now available in Sacramento – and, for the first time, in CSLB's Norwalk office.
The previous text-dominant look has been simplified and relies more on buttons with images to guide users through payment options. Functions have been combined in order of importance. A computer mouse is available at each payment "kiosk" if a contractor prefers that over the touchscreen monitor.
Contractors who use the ePayment system also must bring the necessary documents to submit to a CSLB representative after paying their fees. The payment process is not complete until all documents have been turned in at the customer window.
Documents for renewals, reactivations, and all application types must be signed. No documents are required for re-examinations or the initial license fee. There are 16 CSLB license categories, the ones most frequently used that are available for ePayments. Click here for a complete list of CSLB fees.
The system is slated to be expanded to CSLB offices in Fresno, San Bernardino, and San Diego later this year.