CSLB, Other State Licensing Agencies Conduct Nationwide Blitz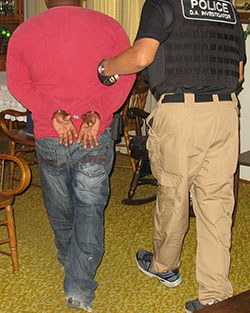 CSLB joined with eight other state contractor licensing agencies to conduct simultaneous sting operations in late June. With the assistance of the National Association of State Contractors Licensing Agencies (NASCLA), the effort helped elevate nationwide awareness of the risks of using unlicensed operators and the value of hiring licensed contractors.
California, Arizona, Florida, Nevada, Rhode Island, South Carolina, Texas, Utah, and Washington took part by conducting simultaneous undercover sting operations in their states from June 15-26, 2015. CSLB's summer "California Blitz" rounded up the highest number of illegal contracting suspects at 105. The other regulatory agencies reported issuing dozens of citations for violations of their states' contracting laws.
The national sting operation was declared a success by CSLB Registrar Cindi Christenson and other agency directors who praised the initiative taken to strike a blow against the underground economy.
"Unlicensed contracting is a problem that knows no state lines," said Ms. Christenson, who became CSLB's chief executive in January. "Consumers everywhere benefit if they ask the right questions before hiring anyone to work in or around their home."
Angie Whitaker, NASCLA's executive director, said the coordinated operation "provided a national partnership opportunity among our state members to protect consumers, deter illegal construction activity, and level the playing field for legitimate contractors in the construction industry."
CSLB conducts an average of one sting operation or construction site sweep each week throughout the state, and conducts at least three statewide blitzes each year. During the most recent blitz, investigators from CSLB's Statewide Investigative Fraud Team (SWIFT) partnered with several local law enforcement agencies to conduct a total of 14 undercover sting operations in eight cities from June 23-25, 2015: Apple Valley (San Bernardino County), Cypress (Orange County), Lafayette (Contra Costa County), Paso Robles (San Luis Obispo County), Sunnyvale (Santa Clara County), San Jose (Santa Clara County), Visalia (Tulare County), and Yuba City (Sutter County).
Among those arrested for various contracting law violations were three repeat offenders, four suspects with an active arrest warrant, two suspects on probation, one registered sex offender, and three with either revoked or suspended CSLB licenses.