CSLB's ePayment System Coming to Three More Field Offices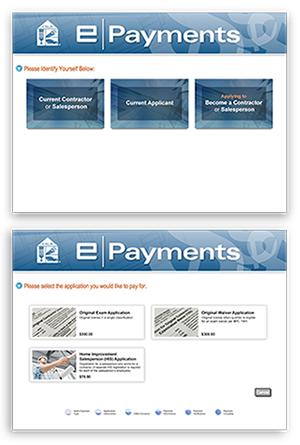 CSLB's computer payment system for contractors who pay their fees by credit card is being added to field offices in Fresno, San Diego, and San Bernardino. The upgraded system was installed in Sacramento headquarters in the spring and for the first time in Norwalk.
Easy-to-use payment "kiosks" provide a computer with a touchscreen to navigate through available payment options, which are displayed as images to simplify and streamline the process. A computer mouse also is available at each kiosk if a contractor prefers that over the touchscreen monitor.
Contractors who use the ePayment system must bring the necessary documents to submit to a CSLB representative immediately after charging their fees to a credit card. License and/or application documents that accompany the fee payment are not processed at the field offices but are sent to Sacramento headquarters for verification. License renewals do not take effect until all relevant documents have been processed, so contractors or salespeople who use the ePayment system to renew their license or registration are encouraged to provide adequate time before the expiration date for document processing.
Documents for renewals, reactivations, and all application types must be signed. No documents are required for re-examinations or the initial license fee.
There are 16 license or registration payment categories; the ones most frequently used are available for ePayments. Check this CSLB page for the complete list of fees.