Contractors Sought as CSLB Industry Experts in Sacramento, Santa Clarita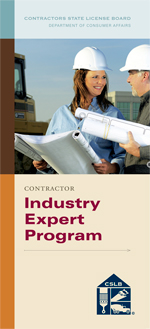 CSLB is putting out the call for veteran contractors in the Sacramento and Santa Clarita areas to join its Industry Expert Program, a group of trade professionals who assist CSLB in investigating consumer complaints.
In Sacramento, C-13 Fencing contractors are needed as Industry Experts (IEs), as are those holding C-17 Glazing, C-23 Ornamental Metal, and C-39 Roofing licenses.
In the Santa Clarita area, C-22 Asbestos Abatement contractors are needed to work as IEs with CSLB's Valencia Investigative office. More cases involving asbestos handling and removal are expected in north Los Angeles County.
IEs serve as independent consultants to CSLB, and are compensated for their time. An IE inspects assigned projects, and prepares unbiased, professional reports to help protect the public from unscrupulous or incompetent licensed and unlicensed contractors. An IE also may be called upon to testify in arbitration and/or administrative hearings.
IEs must be licensed and in good standing with five years of experience as the license qualifier, and have no legal actions against them within the past seven years to qualify for the program.
To participate as an IE or for more information, review CSLB's Industry Expert publication, or send an email. An application to join the IE program can be printed, filled out and mailed to CSLB's Sacramento headquarters.