2020 Edition of California Contractors License Law & Reference Book Now Available
---
Purchase your copy or download a PDF version online
SACRAMENTO - The latest issue of the annual Contractors State License Board's (CSLB) California Contractors License Law & Reference Book is now available for purchase or for viewing online. At the beginning of the book you will find a "Summary of Major Changes to Contractor Law," which outlines new contracting laws that became effective on January 1, 2020. You may be familiar with this information as we sent it out at the end of December.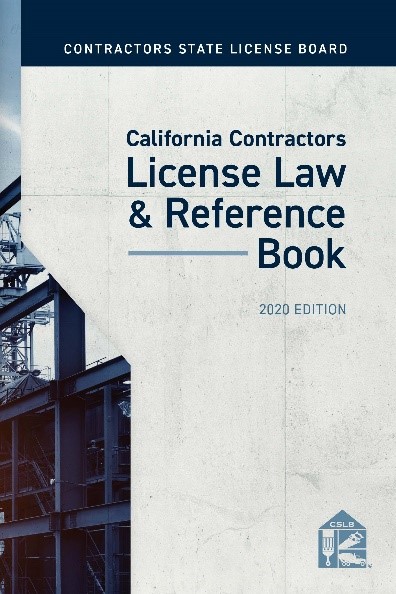 The all-inclusive book also details CSLB's history and mission and offers specialized sections about becoming a licensed contractor; home improvement; business management; construction standards and safety regulations; California's Business and Professions Code and other construction-related state codes; and complete contractors' state license law rules and regulations.
"The 2020 law book is an excellent reference and guide for industry professionals at all levels," said Dave Fogt, CSLB Registrar. "This tool can help prospective contractors get information on the application and testing process, as well as help them with questions on how to set-up their contracting business."
The 2020 law book can only be purchased from the publisher, LexisNexis, and is not available at any CSLB office. The book costs $38.00 plus tax, and $10.44 for shipping and handling. Major credit cards are accepted. It can also be viewed as a PDF.
Order Online
from LexisNexis
Order by Phone: (800) 533-1637
Order by Fax: (518) 462-3788
Sign Up For News Release Email Alerts
Please type in your email below and click submit.