Most Wanted - Eyal Hamer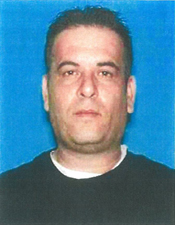 ALIASES: Eli Hamer, Eyal Hammer
SEX: Male
BIRTH YEAR: 1974
HEIGHT: 6'3"
WEIGHT: 240
HAIR: Brown
EYES: Brown
RACE: Israeli
Eyal Hamer - Unlicensed Contractor
VIOLATIONS:
Elder Abuse
Grand Theft
Burglary
Contracting without a License
KNOWN LOCATIONS:
Current Location Unknown, possibly outside the U.S, Past residence in North Hollywood
BUSINESS NAME(S):
Noga Remodeling, Novatec Extension
ACCOMPLICE(S):
OTHER:
Hamer, an unlicensed contractor, is considered a fugitive from the law with an outstanding $150,000 arrest warrant.
The charges are the result of a 2008 contract Hamer had with an elderly woman to perform work at her Anaheim home. What began as an agreement to install a small cabinet in the woman's laundry room and gutters on a portion of her roof, turned into demands for additional payments and threats to file property liens.
The victim made 30 payments, totaling more than $154,000. A CSLB investigation determined the value of the work performed at the victim's home to be $2,125.
Warrants were filed in 2012 for the arrests of Hamer and Yaakov Akula, whose company, Novatec Extension, allegedly employed Hamer. Of the $154,000 the victim paid, just over $69,000 went to Akula, also an unlicensed contractor.
In February 2013, Akula agreed to a reduced charge of Contracting without a License and was sentenced to three years informal probation, $40,000 restitution to the victim, and 30 days community service.
WARNING:
NO ATTEMPT SHOULD BE MADE TO APPREHEND THIS INDIVIDUAL, EXCEPT BY LAW ENFORCEMENT OFFICERS.
This individual has been involved in unlicensed activity and an arrest warrant has been issued. If you see this person or have any information as to this person's whereabouts, please contact your local Police or Sheriff's Department. After contacting local law enforcement, call the Contractors State License Board in northern California at (916) 255-2924 on in southern California at (562) 345-7600. Warrants must be verfied with the law enforcement agency holding the warrant before and apprehension can be made.
CSLB makes every effort to provide accuracy in reporting and is not responsible for errors/omissions. Submit corrections to the CSLB Public Affairs Office.
Connect with us on Twitter