Catching Illegal Contracting in the Act with "Eyes on Site"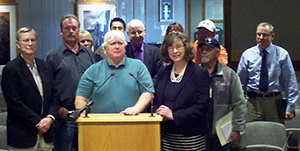 CSLB and Butte County have launched a pilot program to catch illegal contractors in the act with the "Eyes on Site" program. The program is comprised of CSLB industry experts (IEs) who serve as the local eyes and ears to identify suspected unlicensed contracting. CSLB is hopeful that the new program will serve as a statewide model to curb illegal activity while also helping to level the playing field for licensed contractors.
Eyes on Site was unveiled at a February news conference in Oroville by CSLB and Butte County officials, and local contractors who have experienced loss of business to illegal operators. Once IEs from the Butte County region view active construction sites and notify CSLB of suspected illegal contracting, Statewide Investigative Fraud Team investigators take appropriate action.
Violators could be issued a Notice to Appear in superior court, a Stop Notice (if employees on site are not covered by workers' compensation insurance), or other disciplinary action.