Loneliest Contractors or Industry Beacons?
Douglas Shyffer and Jay Medeiros are owners of California construction companies that perform vastly different work, but they do share a unique status among CSLB-licensed contractors — they're the only license holder in their specialty classification, and will be the last to hold that classification.
Of the almost 300,000 licensed contractors in the state, just seven have a job classification all to themselves in the "D" subcategory of the C-61 Limited Specialty classification (as of July 2013).
There are solo licensees in D-1 Architectural Porcelain; D-05 Communication Equipment, Low Voltage Alarm Systems, Etc.; D-15 Furnaces, Industrial, Open Hearth, Heat Treating; D-18 Jail and Prison Equipment; D-46 Steeple Jack Work; D-57 Propane Gas Plants, Burners, and Flame Control; and D-58 Residential Floating Docks.
As the lone holder of a D-58 license, Shyffer operates a business that many would envy. His company, ESA Industries, designs, builds, and repairs floating docks and related services, primarily for those who live along and play in the waters of Southern California.
Medeiros' company, based in the San Francisco Bay Area community of San Ramon, has a more ironclad mission. Universal Security Products Inc. operates with a D-18 license that allows it to supply and install equipment that is specially fortified for correctional facilities and police stations throughout California.
Catering to Southern California water recreation needs
ESA Industries caters to the unique needs of the water recreation industry. From its factory in the City of Industry, the company designs and assembles boat docks, marinas, and gangway ramps. In addition to the D-58 license, Shyffer holds a "B" General Building contractor license that allows his company to be a full-service business that includes repair work, selling molded floats and accessories, and supplying other dock builders.
Projects can range from a small $10,000 dock to a $350,000, 75-boat-slip marina at Lake Arrowhead. Most of the company's work takes place on Southern California lakes, where its aluminum-framed docks are especially suited to fresh water.
But ESA ventures into saltwater on occasion. Last year, its crews built a boarding dock for emergency vessels that use Capitola's turn-of-the-century wooden pier.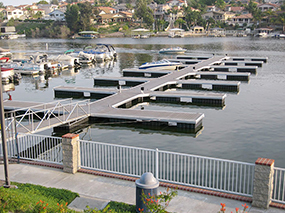 Being in proximity to Southern California's moviemaking industry gave ESA an unsung role in the spotlight: The company was hired to construct a floating platform for the movie model of the ship Titanic, which was then being built off of the Mexican coast for the blockbuster movie.
ESA has ridden its share of business crests and troughs, which, Shyffer says, goes with the territory for a company that makes its living from a luxury market. But the recent recession was the worst downturn since his brother, Dennis, and he began their dock business in the early 1970s. Shyffer said he was forced to lay off some of his most productive and talented workers to keep the company afloat. Today, ESA employs four full-time workers as the demand for dock-related products begins to pick up.
Unique skills, materials needed to build prisons
The D-18 Jail and Prison Equipment classification was specially created by CSLB in 1971 for Universal Security Products. Jay Medeiros also holds licenses in C-7 Low Voltage Systems and C-17 Glazing classifications, necessary for the company to bid on contracts involving local, state, and federal detention construction.
He's been with Universal Security Products since 1992, and purchased it in 2007. The company has 10 employees and is among a handful of U.S. contractors that specialize in jail and prison equipment construction.
According to Medeiros, the security demands of correctional facilities and police stations make the contracting process much more involved than for other government or institutional facilities. His company must buy all of its materials from preapproved manufacturers and maintain its certification standard to install the equipment. Bids for public projects must be calculated and submitted using strengthened "detention-grade" materials.
Medeiros says his industry always has been cyclical but that he's also seen a trend toward smaller detention projects as governments look for ways to cut costs. The average contract for his firm now is in the $3 million range, down significantly from $8-9 million during active phases of prison building. His company currently is working on detention projects in San Andreas and Shasta counties.
Once vacated, classifications will be obsolete
In addition to operating one-company classifications, Shyffer and Medeiros have the distinction of carrying the final torch for their classifications. CSLB merged the D-58 and D-18 classifications into related but, broader categories; D-59 was absorbed into the Class "A" General Engineering license and D-18 is assigned to a relevant class depending on the nature of the work. The other five "D" subcategory classifications with solo licensees also have been moved, and will become obsolete when vacated by the current license holder.