Valley Fever Precautions Vital for Outdoor Workers
Construction and other outdoor workers who disturb the soil in certain parts of California, particularly in the Central Valley, can be at risk of contracting Valley Fever, a ground-borne fungal illness that can be disabling or even fatal in severe cases.
More than 1,000 workers seek hospital care for Valley Fever every year in California. A recently publicized case involved 10 members of a 12-person construction crew excavating a trench in the Central Valley.
Valley Fever is contracted by inhaling fungal spores from Coccidioides fungi that live in the dirt and are stirred up by activity such as construction, digging or driving, or working in dusty, wind-blown areas. Those who fall ill typically experience pneumonia and flu-like symptoms. The fungal spores also are present in soil located in several southwestern U.S. states, and in Central and South America.
Although there's no vaccine against Valley Fever, workers can take precautions through the use of dust-control measures and appropriate personal protective equipment. They also can become vigilant about warning symptoms, and seek early medical attention if typical symptoms appear (between seven and 21 days after breathing in spores) and include:
Cough
Fever
Chest pain
Headache
Muscle aches
Rash on upper trunk or extremities
Joint pain in the knees or ankles
Fatigue
Symptoms of Valley Fever can be mistaken for other diseases, such as the flu (influenza) and TB (tuberculosis), so it is important for workers to obtain medical care for an accurate diagnosis and possible treatment. Check the California Department of Public Health's Valley Fever website at http://www.cdph.ca.gov/programs/ohb/Pages/Cocci.aspx for more information.
---
Exposure to Toxic Lead Still High in Construction Industry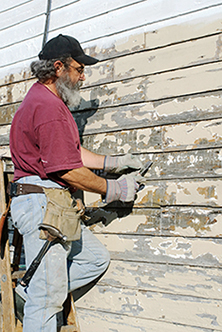 Despite the well-known dangers of lead poisoning, thousands of California workers still are being overexposed to lead at their jobs and have dangerously elevated levels of the metal in their blood, according to a new report from the California Occupational Blood Lead Registry.
Up to 10 percent of the workers tested in the state from 2008-2011 had blood lead levels (BLLs) that exceeded the safety threshold set by California's Occupational Lead Poisoning Prevention Program. Overexposure to the metal has been known to cause kidney and cognitive impairment, and hypertension.
Construction workers accounted for 17 percent of all elevated blood level cases detected among those who work in industries where lead is a hazard. Only the manufacturing industries had more cases of workers whose blood levels exceeded safe standards.
The Registry report indicated that painting and wall covering contractors are of particular area of concern. About a quarter of workers who were tested in 2011 had higher-than-acceptable levels of lead in their blood.
The state Department of Public Health says the report likely is only a limited and incomplete look at elevated lead levels in workers.
The most significant limitation is that many employers fail to provide BLL testing to their lead-exposed workers. Efforts are underway to improve the state tracking system by revising standards that would require employee testing in industries that use lead.