Public Works Unit Expands to Ensure Contract Compliance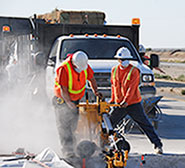 Staff has been added to CSLB's Public Works Unit to ensure that contractors who bid on or participate in public works projects aren't dragging past violations into a new, publically financed work setting.
The Unit's Enforcement Representatives each focus on specific state regions. The larger team is working with awarding agencies to prequalify project bidders, disclose public works violations imposed by other state agencies on CSLB's website, and identify those who have committed serious offenses potentially subject to CSLB disciplinary action.
The Public Works Unit is focusing on:
Civil Wage and Penalty Assessments – These judgments can be imposed against a prime contractor and subcontractor for nonpayment of employee prevailing wages, overtime, travel, etc. by the state Department of Industrial Relation' Division of Labor Standards Enforcement (DLSE). CSLB has the power to suspend contractor licenses to compel payment, although some prime contractors work in good faith with DLSE to resolve unpaid debts to employees. Civil Wage and Penalty Assessments that become final orders also can be used by CSLB to impose formal discipline on the offending contractor for Labor Code violations(s).
Verifying Leads on Public Works Projects – Public Works Unit staff verify that licensees on public works contracts obtain and maintain worker' compensation insurance for employees. CSLB staff often finds that contractors have a workers' compensation exemption on file with CSLB but have employees performing work on public projects. In cases of discrepancy, CSLB investigators call the contractor to advise that a violation of Business and Professions Code §7125.4 is suspected. Contractors are given 10 days to comply with the law and a follow-up letter is sent. So far, the unit has achieved 100 percent compliance.
Red Flags – The unit is on the alert for contractors who violate the Labor Code and later try to escape their debts, including unpaid wages to employees. Investigators will red-flag cases where corporate officers discharge the debts under one corporation, and then try to prevent these officers from obtaining another license using a new business name. On a related note, investigators also are taking action against those who fail to disclose unpaid liabilities on license applications.