Lend Your Expertise to Licensing Exam Reviews, Updates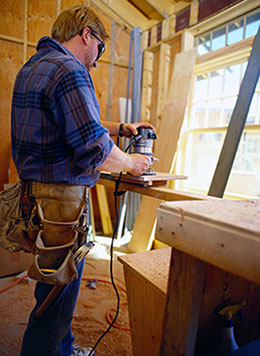 CSLB's Testing division will be recruiting Subject Matter Experts (SMEs) in certain classifications for 2014 to make sure license examinations are up-to-date and relevant for each of CSLB's 43 classifications and two certifications. CSLB encourages experienced licensees in the following classifications to apply: C-6 Cabinet, Millwork and Finish Carpentry, C-11 Elevator, C-15 Flooring and Floor Covering, C-20 Warm-Air Heating, Ventilating and Air-Conditioning, C-23 Ornamental Metal, C-36 Plumbing, C-43 Sheet Metal, and C-51 Structural Steel.
To participate as a SME, you must be the qualifier for the license and the license must be in good standing. SMEs are paid $150 per day and reimbursement is provided for approved travel expenses. CSLB maintains a SME database for each license classification. Qualified licensees who wish to be entered into the database should contact CSLB's Testing division through the recruitment line: 916.255.3221.
"B" General Building contractors are not needed to serve at this time.
SMEs contribute to CSLB's examination development process through a series of workshops at the Sacramento headquarters office where they team with CSLB Testing division staff to identify critical job activities in a given trade and practical knowledge that licensees must have to perform competently.
Once that information is collected, Testing staff mails or emails an occupational analysis questionnaire to a large sample of contractors in that classification. Contractors are asked to rate how often they perform various trade activities and the importance of different types of trade knowledge as well as building codes, estimating, and interpreting blueprints. Questionnaire data helps determine the scope of the trade examination. Activities that are performed more frequently, and knowledge that is rated more important, receive more weight on the examination.
Once new examination content is gathered, Testing staff and SMEs review and revise existing examination questions. Finally, SMEs attend a three-day workshop to help determine the passing score for the new questions.
By law, contractor license examinations must be kept current to reflect changing industry technology and techniques. CSLB performs a new occupational analysis about every five years for each of its license examinations. This yields about nine updated tests each year. The entire examination development process takes close to a year of diligent work.