Veterans Application Assistance Program at Work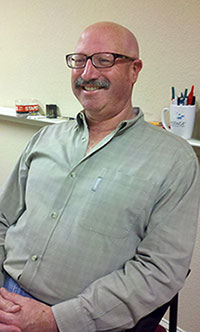 "I remember when I came home from Vietnam. It was not an easy thing to do…integrating back into civilian life. Today, it is still rough on veterans coming home. As an employer, it is rewarding to hire and work with returning military veterans."
Owner Mark Steiner, of M.A. Steiner Construction, based in Orangevale, is one of the first construction companies to take advantage of CSLB's Veterans Application Assistance Program (VAAP), which offers priority service to veteran applicants by evaluating transferable military experience, training, and education.
Licensed since 1989, M. A. Steiner Construction (556838) focuses on large federal and state projects. To better serve customers, Steiner used VAAP to add two new classifications—C-10 Electrical, and C-31 Construction Zone Traffic Control—to his existing "A" General Engineering and "B" General Building classifications.
"I felt that by adding the additional classifications, we could be more competitive," Steiner said. "Our company can now offer our customers a more streamlined process by being able to take care of the electrical wiring and traffic control ourselves without having to sub it out."
M. A. Steiner Construction employs about 65 people. Steiner says he searches for, and hires the most qualified people he can find. "Vets are loyal, and they are reliable," he says. "The men and women coming out of the military often have some leadership training."
Steiner is a retired Army Ranger who served at the end of the Vietnam War era. He became a paratrooper with the famed 82nd Airborne Division, and served as a member of the Marksmanship Training Unit of the 7th Infantry Division. "I enlisted in the Army in 1974. In fact, I was in basic training in April 1975 when Saigon fell," Steiner says.
CSLB's Licensing division receives about five inquiries each week from former service members interested in VAAP. Most applicants are interested in becoming licensed contractors for the first time; many inquiries, however, come from veterans who are still in the military and are planning ahead for their civilian life.
More information about CSLB's Veterans Application Assistance Program is available at cslb@ca.gov or by calling 800.321.CSLB.