CMEA Builds Foundation for Industry Future
Two teams of California State University, Sacramento's (CSUS) Department of Construction Management students won major national competitions over much larger universities and captured the 2013 national design-build student competition in Las Vegas, sponsored by the Design-Build Institute of America. The team's 38-page written response to a request for qualifications (RFQ) and request for proposal (RFP) for a college residence hall was judged as the best among 40 student teams from around the country.
Construction Management Education Fund Needs Your Support
The Construction Management Education Account (CMEA) that generously has been funded by contractor donations for decades is in a serious decline; donations dropped off sharply during California's economic downturn and may be depleted by the 2014-15 fiscal year. CMEA is in need of a financial infusion to maintain this important fund, which helps students pursue their dreams of working as construction industry managers. Now that the state economy and construction industry are improving, CSLB is hopeful that licensees will help replenish CMEA.
It's easy to make a donation. There's a space to include your voluntary CMEA contribution on the form when applying or reapplying for a contractor license. Any amount is appreciated.
CMEA was created by the Legislature in 1991. It operates under an advisory committee of 11 representatives from professional contractor associations that makes award recommendations to CSLB each year. Universities can use the money for instructional materials and support equipment, curriculum development, outreach, continuing education, faculty or other expenses. CSLB is responsible for the program's administration and annually reports the activity to the Legislature.
The victory followed on the heels of a big win in Chicago at the 2013 Associated Schools of Construction inaugural Healthcare Preconstruction Competition. The Sacramento State team out-performed schools with larger programs, like Purdue University and Auburn University.
"This was a test and proves we are a school of national prominence," said Justin Reginato, a professor in CSUS Construction Management Department following the competition. "We want to be the best construction management school in the United States."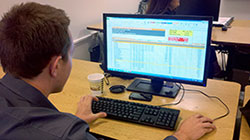 Student Neil Devlin, a spring 2014 graduation candidate and member of the team that won the Las Vegas design-build, said the competition was good exposure and demonstrated that Sacramento State's team has the qualities that employers are looking for, like working effectively in a stressful situation. "We take the initiative ourselves and put as much dedication into it as possible," he said.
"It was an interesting experience," added Kim Braga, speaking about the Chicago competition that required her team to turn in construction plans under a tight deadline. "It was challenging, but it made it that much better when we got first place."
Braga graduates this month. She is among a growing number of women who have enrolled in the CSUS Construction Management program. Of the 200 students taking classes in this major last semester, about 10 percent are female.
Although the Construction Management program was granted full department status in 2012, it has existed for 40 years as part of the College of Engineering and Computer Sciences, and is one of the oldest of its kind in the California university system.
Graduates earn a Bachelor of Science degree in construction management, and also must earn enough credits to qualify for a minor in Business Administration—one of the few state university programs with that requirement.
"Giving students practical business skills to complement courses in engineering and construction is critical to their development as construction professionals," said Professor Mikael Anderson, chair of CSUS's Construction Management Department. "We're teaching them engineering and management skills so they can hit the ground running," he added.
In addition to overseeing the department, Anderson is a registered civil engineer who holds a "B" General Building contractor license. He came to the university in 2003 after careers in the private and public sector.
As proud as he is of his students' recent accomplishments, Anderson also points to the ultimate measure of their success—a 100 percent job placement rate upon graduation. Last spring, 32 graduates had job offers in hand, as did the 2012 crop of Construction Management graduates.
There are 45 graduation candidates in the Class of 2014 who already are receiving job offers—and frequently more than one, according to Anderson.
The program's alumni have played a major role in high-profile construction projects around Northern California, including the construction of Levi's Stadium in Santa Clara, which will be the new home of the San Francisco 49ers; the new B terminal at Sacramento International Airport; and a large Sutter Health medical complex in Sacramento.
"It's invaluable to have the help of industry leaders in the area, as well as aid from CSLB's Construction Management Education Account," Anderson said.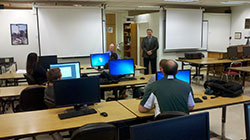 Thanks to existing donations from contractors and a reserve fund, CSLB has distributed about $150,000 each year to state universities since fiscal year 2008-09. Five schools offering construction management majors received money in 2012-13, with California State University, Chico, topping the list at almost $58,000.
The annual grants are based on the number of graduates and job placement rates at each school. Sacramento State, one of the smaller programs by number, received $8,695 this year.
Anderson says the grant is much appreciated and goes toward instructional support, such as classroom materials and equipment, and developing and updating curriculum. The funds also have helped keep faculty current in their respective disciplines through continuing education workshops, conferences, and training.