Use Only Water-based Flux When Soldering Copper Pipe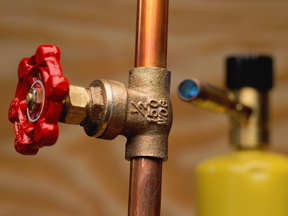 To reduce the amount of copper pollution that enters our waterways and wastewater, the Bay Area Pollution Prevention Group and Copper Development Association (CDA) are reminding plumbers and related trades people who work within the Uniform Plumbing Code (UPC) guidelines to use ASTM B813 flux (a water-flushable flux) when installing potable water lines. (ASTM, or ASTM International, represents the American Society for Testing and Materials, and is a globally recognized leader in the development and delivery of international voluntary consensus standards.)
Studies have found that petrolatum-based, non-ASTM fluxes can increase pipe corrosion long after the joint has been soldered. Not only can this cause pipe failure, but it also can increase the copper concentration in drinking water above the national water quality standards, which may cause gastrointestinal upset and affect taste and odor.
CDA completed a comparison of the six top-selling B813 fluxes against three top-selling non-B813 fluxes in the U.S. market. The results showed that solder joints made with three of the B813 fluxes were indistinguishable compared to the non-B813 fluxes, and were of better quality. If the flux is B813-compliant, the compliance statement is typically prominent on the front of the label. If it is not B813-compliant, there is simply no statement about the ASTM standard on the label.
B813 fluxes are affected by water and moisture as well as heat; therefore, it is recommended that flux containers remain closed when not in use so rainwater, water on the job site, or water absorbed from humidity does not dilute the flux and reduce its effectiveness. Also, joints that are cleaned and fluxed one day should be soldered that same day. Proper soldering techniques are outlined in ASTM B828 "Standard Practice for Making Capillary Joints by Soldering of Copper and Copper Alloy Tube and Fittings" and are designed to help provide consistent, high-quality, leak-free joints. Installation practices includes thoroughly flushing newly soldered pipe and sink parts at a robust velocity for at least 30 minutes.
More information is available through BAPPG or the Internet links above.